Whoa, did you know that the CBTL Giving Journal 2018 is the 10th edition? I only became aware of it a few years ago. This time, the theme is Leave a Legacy. The brand is encouraging everyone to expand their vision. From focusing on what we want to do, we ponder on what does the world needs from us.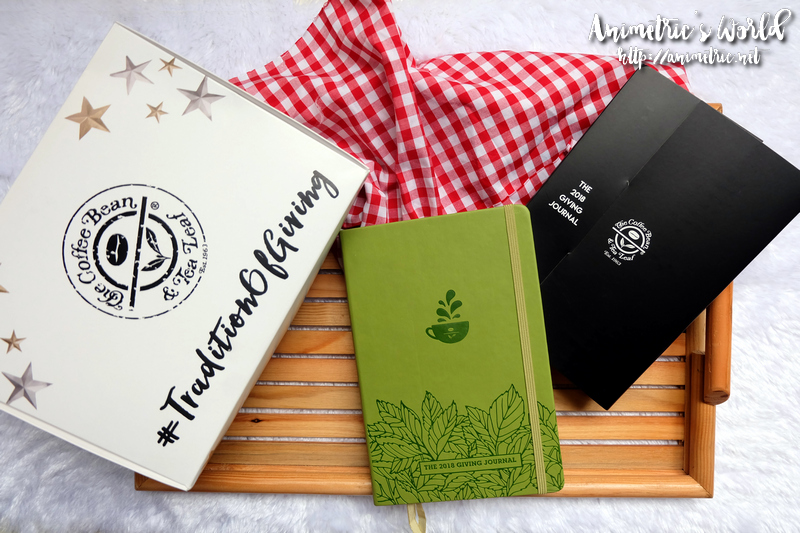 The CBTL Giving Journal 2018 comes in four (4) designs: Green, Gray, Blue, and a customizable cover for those who want to color their own planner. I got Green. It's reminiscent of a Moleskine planner.
So what's inside? First of all, there are twelve (12) CBTL coupons you can use throughout the year, one for each month:
Free upsize on a Chai Latte
Buy 1 Take 1 Ice-Blended
Buy 1 Take 1 Cappuccino
Buy 1 Sandwich, free can of any RTD
Buy 1 Beverage, free add-on (Espresso Jelly or Espresso Covered Beans)
Free upsize on any beverage
Buy 1 Breakfast Set, upgrade free drink to Espresso-based or Tea-based Latte
Buy 1 Take 1 Tea Latte
Buy 3 Ready Coffee Boxes, get 1 free
Buy 1 Pasta, get today's Iced Tea for free
Buy 1 Cake Slice, free Brewed Coffee or Hot Tea
Buy any beverage and get an extra stamp for the CBTL Giving Journal 2019
The last coupon starts your stamp collection for the next year's CBTL Giving Journal.
Each month features an inspirational page like this one.
There are also monthly pages for goals, plans, realizations, and memories.
There are lots of spaces to write or even draw on.
The CBTL Giving Journal 2018 has a back pocket with a sheet of stickers inside.
Surprise! You can find three (3) Wingstop coupons at the back portion of the CBTL Giving Journal 2018.
So how can you get a CBTL Giving Journal 2018?
The CBTL Giving Journal 2018 can be claimed from Oct. 21, 2017 to Jan. 14, 2018.
You need to collect twelve (12) stamps : 1 Original Ice Blended, 1 Tea Latte, 1 Coffee-based Beverage, 1 Holiday beverage, and 8 CBTL beverages (Coffee or Tea based, Original Ice Blended, Hot Chocolate/Vanilla, Cold Brew, Nitro Brew)
Stamps may also be collected by purchasing Ready Coffee Box (1 stamp) and CBTL Capsule Box (2 stamps), any model CBTL Single Serve Beverage System (12 stamps)
Please note that stamp cards may NOT be combined.
Every year, those who avail of a CBTL Giving Journal 2018 are able to help the Real LIFE Foundation, the direct beneficiary of the Giving Journal. The Real LIFE Foundation exists to serve the poor in the Philippines by providing opportunities for educational assistance and holistic development. Real LIFE has allowed over 300 scholars to earn a university degree.
Like this post? Subscribe to this blog by clicking HERE.
Let's stay connected: