Sometime during the middle of May, I got acquainted with a Thai beauty brand called Cathy Doll. It's pretty unique because although it's a Thai brand, everything is made in Korea. They have skincare, makeup, and body care products.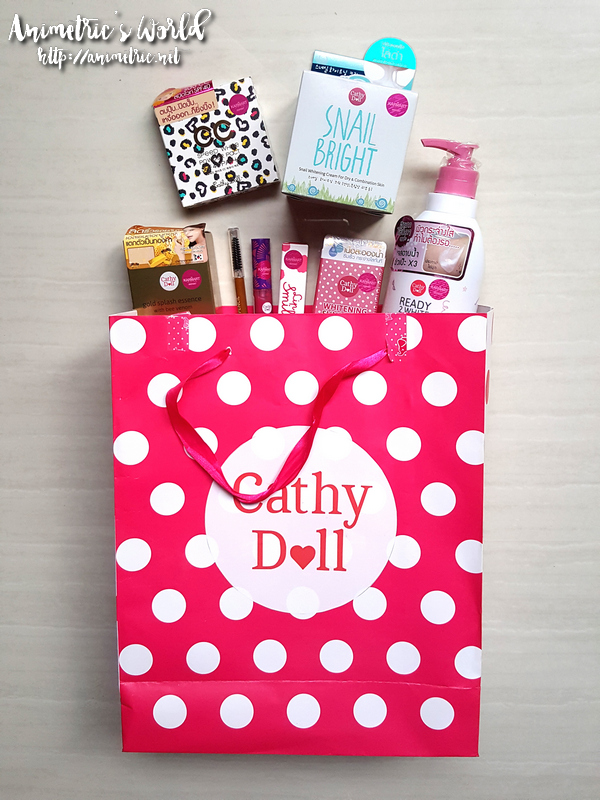 I took home a load of products from the launch… but I'm zeroing in on those which immediately caught my attention.
Cathy Doll Pom Pom Girl Whitening and Pore Reducing Armpit Toner (P349)
If you want smooth and flawless underarms, this product is for you. It has a deodorizing and freshening effect in addition to whitening. The pump dispenser is an added bonus! I'm actually kinda excited to try it haha!
Cathy Doll Geisha Hanazakari Lip Matte (P349 each)
With all the fuss over Kylie Jenner's Matte Liquid Lipstick and its less expensive dupe Colourpop Cosmetics Ultra Matte Lip, I was naturally drawn to Cathy Doll Geisha Hanazakari Lip Matte. I got 2 out of 5 colors: 01 Sakura and 02 Pink Moss. Can't wait to try them out!
Cathy Doll Chilli Bomb Legs and Arms Essence (P349)
Cathy Doll Chilli Bomb Anti Stretch Mark Intense Cream (P349)
Both of these products contain chilli extract and cucumber. I'm more interested in the L-Carnitine infused Legs and Arms Essence because it promises to slim and firm the arms and legs.
I tried a bit of the essence out of curiosity and I didn't really feel a spicy sensation.
Cathy Doll Geisha Moteru Gel Liner Pot (P249)
I love the cute Japanese-style packaging of this one! I got 2 out of 3 colors: 01 Black and 03 Gold.
It comes with a brush that conveniently fits in the cap.
Cathy Doll Snail Bright Whitening Cream for Dry & Combination Skin (P999)
This is one of their star products. It's made of 60% snail mucus extract. It can fade dark spots, moisturize, revitalize, plus brighten and whiten skin.
It comes in a unique airless pump dispenser too, which is actually more hygienic compared to a jar which requires you to dip your fingers.
Cathy Doll Come On Baby Intimate Cleansing Gel (P169)
Formulated for your sensitive area, this paraben-free product is infused with natural plant extracts like Mugwort, Angelica Root, Peony, etc. It removes odors, balances pH levels, and reduces bacteria while protecting your skin.
I'm really excited to try out these products! They're all very nicely packaged and reasonably priced. Will post reviews soon!
Cathy Doll products are available at Watsons (SM San Lazaro, SM Fairview, SM Manila, SM Megamall, SM Mall of Asia, Robinsons Ermita, Market Market), The SM Store at SM Makati and SM Aura, and Robinsons Department Stores. You can also order online from the Cathy Doll Philippines Facebook Page.
Like this post? Subscribe to this blog by clicking HERE.
Let's stay connected: