The most interesting new product for me during the Cathy Doll Anniversary event was the Cathy Doll Nude Me Liquid Lip Matte (P399). Given the excitement about liquid matte lipsticks, I'm always on the lookout for good ones. To date, Kylie remains my favorite but it's quite pricey and not very easy to come by. At the rate I use lip color, I definitely need more.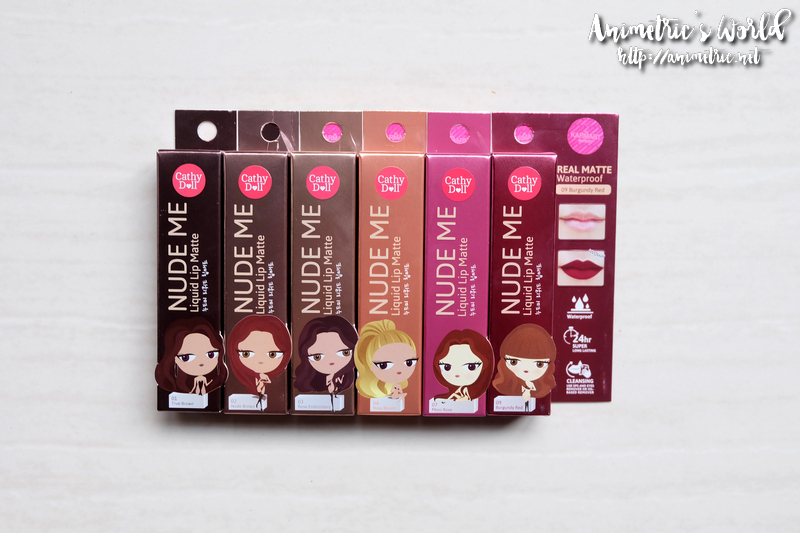 I took home six (6) shades of the Cathy Doll Nude Me Liquid Lip Matte from the event.
I love the metallic boxes these lippies come in.
Like the other liquid matte lipsticks I've tried, Cathy Doll Nude Me Liquid Lip Matte comes in a tube with a sponge tip applicator wand.
Here are swatches of the 6 shades I have.
Here's 03 Rose Embroidery on my lips.
I find this shade a tad too brown for my tastes. I equate brown with old so… lol.
Here is 04 Rose Bloom. It might as well be Peach Bloom.
It's really more on the peach / orange side rather than rose.
This is definitely my favorite shade — 07 Moss Rose.
This one is most like my favorite Kylie Matte Liquid Lipstick in Posie K.
Surprisingly I kind of like 09 Burgundy Red too.
This shade requires some degree of drawing skill. It's so dark that if you don't draw your lips precisely, it's going to look weird. Love how it makes teeth look whiter.
What I like about Cathy Doll Nude Me Liquid Lip Matte:
It goes on very smoothly and it has a pleasant vanilla-like scent.
It dries rather quickly and stays put. When completely dry, you can dab your lips with a napkin and there would be no stain. You can even put lip balm over it and it wouldn't smudge.
It's waterproof and long lasting. I had it on for several hours with no retouch and my lips were still colored when I got home.
It's affordable at P399 per shade.
Downside? It's very drying. It emphasizes the lines on your lips after a while… good thing you can top it with lip balm. You must use an oil-based makeup remover to take it off because regular micellar water will not cut it.
Bottom line is… I like it. I actually get compliments whenever I use it!
Cathy Doll Nude Me Liquid Lip Matte is available at P399 per tube at Watsons, Robinsons Department Store, SM Beauty, and Zalora. For more information, log on to the Cathy Doll Philippines Facebook Page.
Like this post? Subscribe to this blog by clicking HERE.
Let's stay connected: