Today I'd like you to meet my current favorite heavy duty sunscreen, Cathy Doll L-Glutathione Magic Cream (P350 for 60ml / P700 for 138ml). I say heavy duty because you can use this for outdoor activities like swimming and beach hopping. Summer is fast approaching (or is it already here???) so this product review is very timely.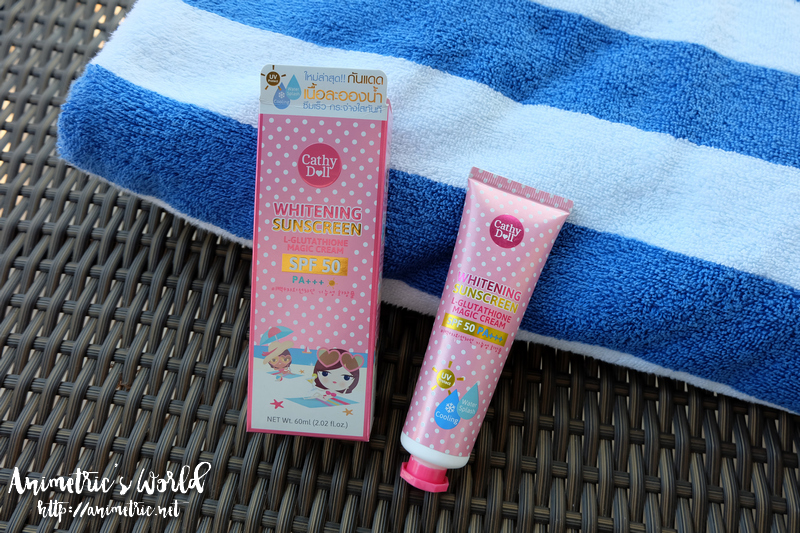 When our family spent the weekend at Aureo La Union a couple of weeks ago, all I brought for sun protection was Cathy Doll L-Glutathione Magic Cream. I admit it. I saw the packaging artwork with cute anime girls lying on the beach and immediately thought okay this is good enough for our trip lol. Well the box also said it was waterproof haha.
It's an opaque white cream that looks thick but is really lightweight. It absorbs so quickly it practically disappears onto the skin. There's no sticky or greasy residue too.
Cathy Doll L-Glutathione Magic Cream also lightens skin by at least one shade instantly. In terms of sun protection, it was pretty good. None of us got dark after spending an afternoon out in the sun swimming, walking on the beach, and kayakking. Well, we tanned ever so slightly we're all maybe a half shade darker than before. But hey, I've experienced getting badly burnt despite slathering on sunscreen so I'd say this one did a pretty good job protecting our skin.
What I like about Cathy Doll L-Glutathione Magic Cream:
It's effective for use under all circumstances — daily use or heavy duty beach use, this product can do it all.
It smells nice and fresh.
It's super lightweight and it dries to a matte finish. No icky residue.
Can be used for both the face and body.
The price is just right — P350 for a 60ml tube.
Not only does it have high SPF, it has an instant whitening effect too.
It's waterproof so it won't wash off when you get wet.
Downside? None! I love this product. It's probably my all-time favorite Cathy Doll product.
Shop for Cathy Doll products at the Cathy Doll Flagship Store on Lazada. You can also purchase Cathy Doll products at Watsons, SM Beauty, and leading department stores.
Here's the good news. I'm giving away an Cathy Doll Surprise bag with over fifteen (15) items inside — including the Cathy Doll L-Glutathione Magic Cream! There are 4 tubes of Cathy Doll Nude Me Liquid Lip Matte too, including my favorite shade Moss Rose. What you see here is just a preview. There are a lot more stuff inside the bag! The value of this bag is over P5,o00.
This is the 8th leg of my 9th blogversary giveaways. You will have to go to https://www.instagram.com/p/BgIhowVFxqq/ for the giveaway mechanics since it's easier to monitor entries there.
Like this post? Subscribe to this blog by clicking HERE.
Let's stay connected: