You know how I'm not really crazy over ice cream. But man, I must say Casa Italia Cafe has the BEST gelato I've ever tasted.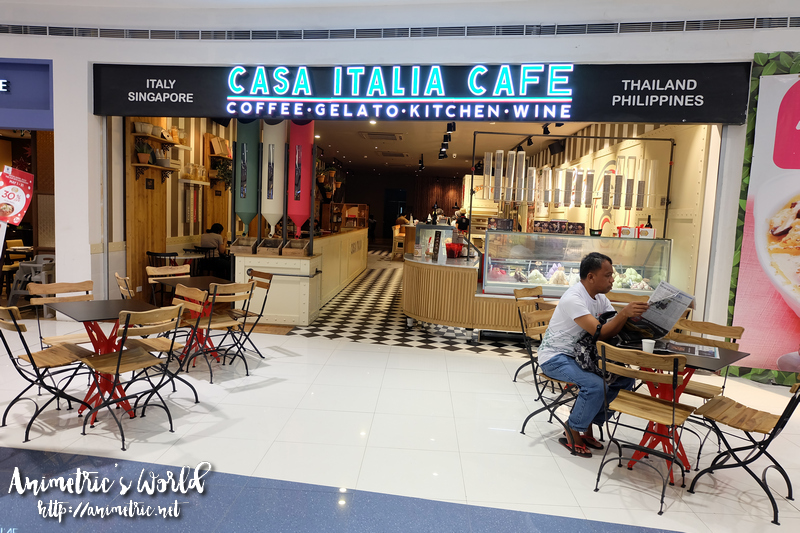 Some weeks ago I had the pleasure of visiting Casa Italia Cafe at SM North EDSA. It's located on the ground floor of SM The Block. I missed out on the launch of their BGC store and I'm glad they opened a branch that's closer to me. Casa Italia Cafe is an Italian restaurant chain from Singapore.
I love the cozy interiors! This was my view of the place from where I was sitting.
Cream of Pumpkin Soup (P150)
We started our lunch with some hearty Cream of Pumpkin Soup. It had just the right consistency for me — not too thick and not too thin. Flavorful yet never cloying. It's a great way to start your meal.
Sole Fillet with Lemon Pepper Cream (P450)
I loved the soft, melt-in-your-mouth fish but I couldn't really taste the lemon and pepper. It struck me more as cream-covered Sole Fillet. Not bad but it would probably be better if the lemon and pepper flavors were more pronounced.
Italian Baked Chicken (P330)
This is a dish comprised of oven-baked boneless chicken fillet topped with pomodoro sauce and mozzarella cheese. Should be a hit with kids. It was okay for me but I would've preferred it with Aglio Olio pasta instead of rice.
Pork Belly with Hickory Barbecue Sauce (P430)
This is the rice dish I liked best among all that was served. The Pork Belly is tender and I love the hickory barbecue sauce it's basted with. Goes well with the rice and sweet corn kernels too!
I had an Avocado Gelato Frappe (P180 media / P190 grande) to wash it all down. You can actually choose any gelato flavor from what they have on hand and they can turn it into this delicious drink. I'd liken it to an extra thick milkshake except that it's not overly sweet. Eating fruit-flavored gelato at Casa Italia Cafe is like eating actual frozen fresh fruits. Can't get over the realness!
Nutella Gelatonini (P99)
If you visit Casa Italia Cafe, you simply must have dessert! They have a lot of really uniquel and decadent ones, like this Nutella Gelatonini. Scoops of nutella gelato are placed in between freshly toasted panini slices. It's reminiscent of the ice cream sandwich we'd buy from vendors at Burnham Park in Baguio but this is so much more luxe!
Limoncello Liquorato (P195 single shot / P245 double shot)

Liquorato is what they call their liquor-infused gelato dessert at Casa Italia Cafe. We tried Limoncello, a combination of raspberry gelato and Il Limone liquor. I'm not an alcohol drinker because I'm allergic but I found this combination quite refreshing.
White Velvet Liquorato  (P195 single shot / P245 double shot)
But what I really loved was the White Velvet, a combination of white chocolate gelato and Amaretto. So yummy, the combination tasted like creamy almond ice cream with a kick!
Sunny Daydream (P560, good for sharing)
A warm apple-peach cobbler is topped with mango, raspberry (or strawberry), and melon gelato. Very fruity and refreshing, a lovely treat during these hot summer months.
Midnight Surprise (P430, good for sharing)
A warm chocolate lava cake is topped with nutella, raspberry, and white chocolate gelato. This one is super yummy too! I can't decide if I like this or Sunny Daydream.
Gelato (P130 for 1 Scoop / P195 for 2 Scoops / P260 for 3 scoops)
There are so many gelato flavors to choose from I get confused every time! So far my favorites are Banana Split, Avocado, and Green Mango!
We got to try their new gelato flavor that day too — Guyabano!
Will definitely go back here with the kids for some gelato. I normally don't crave for ice cream but the gelato at Casa Italia Cafe is really really life-changing, lol!
Casa Italia Cafe
G/F SM North EDSA The Block
Quezon City, Metro Manila, Philippines
246-9069 loc. 948
Like this post? Subscribe to this blog by clicking HERE.
Let's stay connected: