Caroll and Chan, a Hong Kong-based candle company, opened its first Philippine store at The Podium yesterday. I remember receiving a box of Yankee Candles from my mom almost 2 decades ago. The funny thing is, I used most of them during power failures. So we got a little light and a subtle whiff of fragrance. I was already very impressed back then, but Caroll and Chan 100% natural beeswax candles are on an entirely different level.
The Caroll and Chan store is located on the 3rd level of The Podium.
They sell candles and matching reed diffusers. Caroll and Chan aims to bring a complete sensory experience to your home by combining 100% natural beeswax, Asia-inspired scents, and beautiful hand-painted designs. They make your house or room look good and smell good. Pure beeswax candles are healthy and eco-friendly too, meaning they don't emit black smoke and toxins.
Since fragrance is probably the determining factor when it comes to purchasing a candle or a reed diffuser, Caroll and Chan set up a candle bar where you can have a whiff of all the scents they carry.
You don't remove the glass covers and smell the candles themselves.
You remove the cover and wave it under your nose in order to experience a particular fragrance. There are coffee beans on the counter to clear your nose if you're smelling several candles.
My faves are In The Pink and Mojito Mojo. In The Pink features a refreshing combination of pink grapefruit and Thai orange-lime. It's kind of like pink lemonade in candle form. Mojito Mojo combines zesty lime, fresh mint, and rum. Such fresh and yummy scents! All the candles have matching reed diffusers.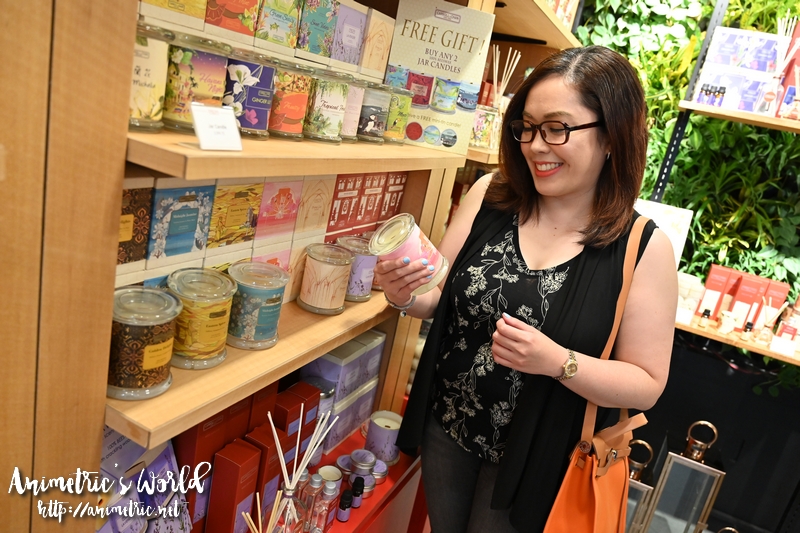 Each jar candle sells for P2,599.75. Since they are handcrafted using 100% beeswax, they burn for 50 hours. That's approximately P52 an hour. They use wooden wicks made of FSC-certified 100% sustainable wood. The wicks make a gentle crackling sound when burning and creates a bright, even glow. Reed diffuser sets sell for P2,599.75 as well.
There's currently an introductory promo. If you buy any 2 jar candles, you get a mini-tin candle worth P699.75 for free!
The store showcases the White Michelia line. The White Michelia has been dubbed as Hong Kong's favorite flower. Personally I find the scent overwhelming, it gives me a super strong sampaguita vibe.
Thanks Caroll and Chan for having us! Lush Angel and I enjoyed checking out the store and getting acquainted with the brand.
Here's a quick price reference guide for Caroll and Chan products:
Jar Candle – P2,599.75
Reed Diffuser Set – P2,599.75
Tin Candle – P1,699.75
Tea Lights (8 pcs) – P1,399.75
Mini Tin Candle – P699.75
Like this post? Subscribe to this blog by clicking HERE.
Let's stay connected: