It took me a while to write this post because unlike my beauty blogger friends, I wasn't at all familiar with Cargo Cosmetics. I attribute this to the fact that when I was younger and when I was starting out, I really was more of a skincare geek. Makeup came much much later.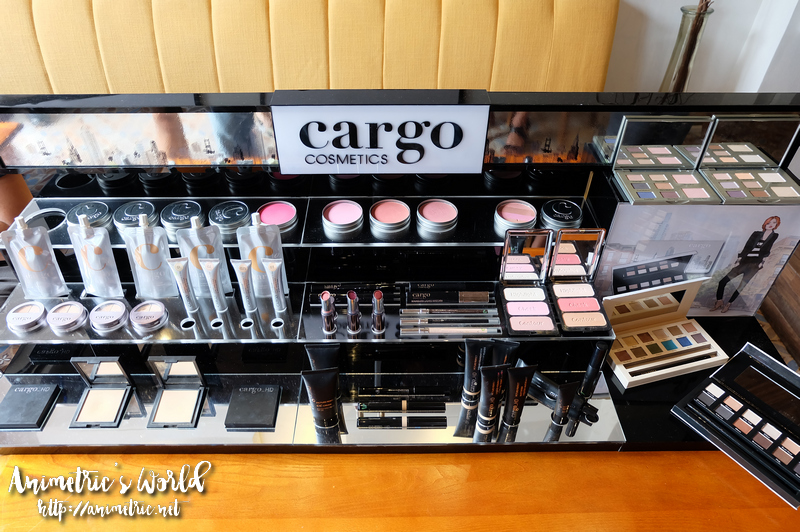 I normally don't attend afternoon events but since this one promised to be short and sweet, I expected to make it back in time to pick up my kids from school. Besides, most of my beauty blogger friends were excited about this brand.
Cargo Cosmetics offers a complete line of makeup products ranging from primer to lip color. They even have a kickass waterproof line called Swimmables so you can SWIM with makeup.
I like their simple yet stylish packaging. This is the Cargo Land Down Under Eye Shadow Palette (P2,750).
Cargo Cosmetics Philippines commissioned renowned celebrity makeup artist Jake Galvez to show us what their products can do. For the first demo, Jake showed us how natural Cargo HD Liquid Foundation (P1,850) looks. It's like second skin!
Then we moved on to waterproof makeup fit for hitting the waves.
The highlight of this look is the Cargo Swimmables Blush (P1,250). The Swimmables line of Cargo Cosmetics also features waterproof bronzer, eye pencil, and lip liner aside from blush.
For the third look, Jake focused on the eyes using the Cargo Land Down Under Eye Shadow Palette (P2,750). Jake encourages experimentation. Don't be afraid to use colors like green on your lids.
For the last demo, Jake went for a natural Parisian-inspired look. A flawless face, well-groomed brows, subtle eyes, and defined MLBB lips comprise this look. For this he used the neutral-toned Cargo Essentials Eye Shadow Palette (P2,750) and Cargo Essential Lip Color (P1,050).
So why should you check out Cargo Cosmetics?
They have a Swimmables line. The products are not only waterproof, you can actually swim with them. Imagine the possibilities, lol!
Everything is highly pigmented so a little goes a long way.
There are shades to complement every skin tone.
Prices are at par with the product quality.
Now there's no need to go abroad for your Cargo Cosmetics fix since it's already available at all Beauty Bar stores nationwide.
Like this post? Subscribe to this blog by clicking HERE.
Let's stay connected: