Before I embarked on the Prolon 5-Day Diet Program, I had one last hurrah at my favorite Chinese restaurant, Lung Hin in Marco Polo Ortigas. We sampled their new Cantonese menu prepared by their new Chinese Executive Chef Lai Cheuk Ko, or simply "Chef Terry".
A delectable 9-course lunch awaited us at Lung Hin.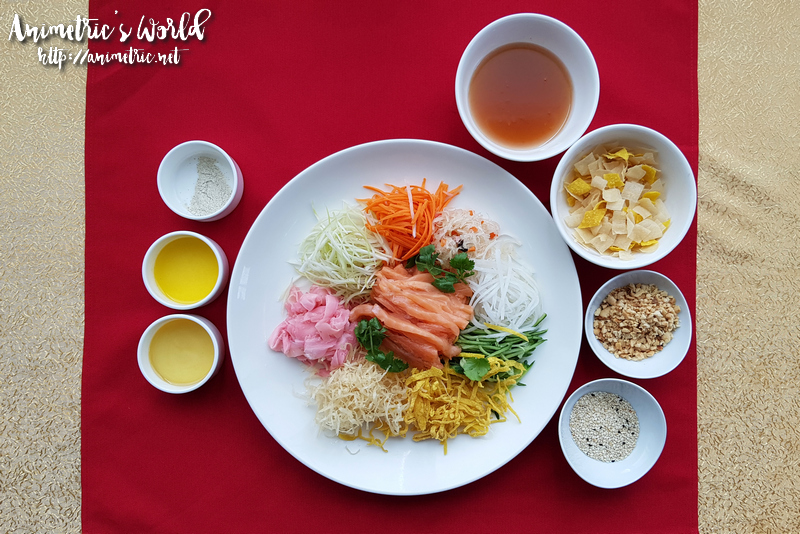 For the first dish, we had Prosperity Toss with Salmon Yu Sheng. I remember having this last year. With Chinese New Year drawing near, indulging in this festive dish is quite appropriate. Everyone gathered round with chopsticks in hand, "tossing" the ingredients up in order to mix the salad. The taste? A combination of crunchy, soft, crisp, and zesty. The dressing is definitely vinegar-based.
Our dishes were all served degustacion-style, portioned for solo servings. This is the Peking Duck with Osmanthus Jelly on Potato Chip. Wow, the duck is divine! The skin is perfectly crisp with just a thin layer of tasty fat underneath. The meat is tender and flavorful.
Steamed Shrimp Dumplings with Gold Leaf was up next. They certainly did not skimp on the shrimp. Each piece is practically bursting at the seams with plump juicy shrimps!
This is the Sauteed Tiger Shrimp Ball in Supreme Chicken Stock. The whole shrimp is literally curled into a ball. It's not the meatball type of ball. The chicken stock was so rich and flavorful I wanted more.
Then we each had a bowl of Double Boiled Chicken with Red Dates and Wolfberry Soup. This is reminiscent of what Chinese grandmothers whip up for their families as a super nutritious meal. The chicken is fall-off-the-bone tender. The broth is so pure and so clean tasting I could cry… the combination of chicken and dates is perfect. It's too good. I ate everything including the dates.
Now this is a different way of serving grouper — Pan Fried Grouper Fillet with Truffle Oil and Sugar Peas. I'm used to having grouper steamed in soy sauce so this is a refreshing change.
We were also served Pan Fried Crispy Egg Noodle with Prawn Ball and Minced Pork. Wow, the noodles were really nice and crunchy! I loved the toppings too.
Last but not least, we got to try the Braised South African Abalone with Hong Kong Dried Sausage and Waxed Meat Fried Rice (I didn't take a photo of the rice).
For dessert, we had the Pan-Fried Two Flavored Chinese New Year Cake. These are actually Nian Gao (a.k.a tikoy), glutinous rice cakes which make an appearance every Chinese New Year. We had Ube and Brown Sugar flavors. The Brown Sugar flavor is so awesome I can't even begin to describe it. It's kinda like kutsinta but infinitely better. Diners can enjoy this popular delicacy until February 21, 2018 in a variety of flavors and special packages. Choose between the Double Happiness Koi Nian Gao with both Orange and Coconut Flavors at P 1,388 and the traditional Round Nian Gao in Ube or Brown Sugar flavors for P 988 per box. Either way, these are the best tikoy ever!
If you're looking for an authentic Chinese restaurant to celebrate Chinese New Year in, Lung Hin is definitely a good choice. I've eaten here numerous times in the past and I've never been disappointed. By the way, I forgot my camera when we had this Cantonese lunch so I used my Samsung Galaxy Note 8 to take all these photos. 🙂
Lung Hin Restaurant
44/F Marco Polo Ortigas
Sapphire Road, Pasig City
720-7777
Like this post? Subscribe to this blog by clicking HERE.
Let's stay connected: