When I was in high school, I wanted to become a newscaster. I thought I'd be on TV looking pretty, delivering the news, and earning big bucks lol. Anyhow, we got tasked with interviewing a TV personality for one of our subjects and for some reason we ended up with Angelique Lazo, a newscaster for ABS-CBN back then. After talking to Angelique about her job, I realized I wasn't cut out for it. For starters, I'm apathetic. There I said it. I don't really care about current events. You can judge me now but that is the truth. Sure it's useful to know when the holidays are and if there is a typhoon coming but I'm not the least bit politically inclined. Politics bore me and it's gonna be hard not to get into that if I was working in the newsroom. While people delivering the news should be impartial, I don't think I can keep on talking about something I don't give a crap about for the rest of my life.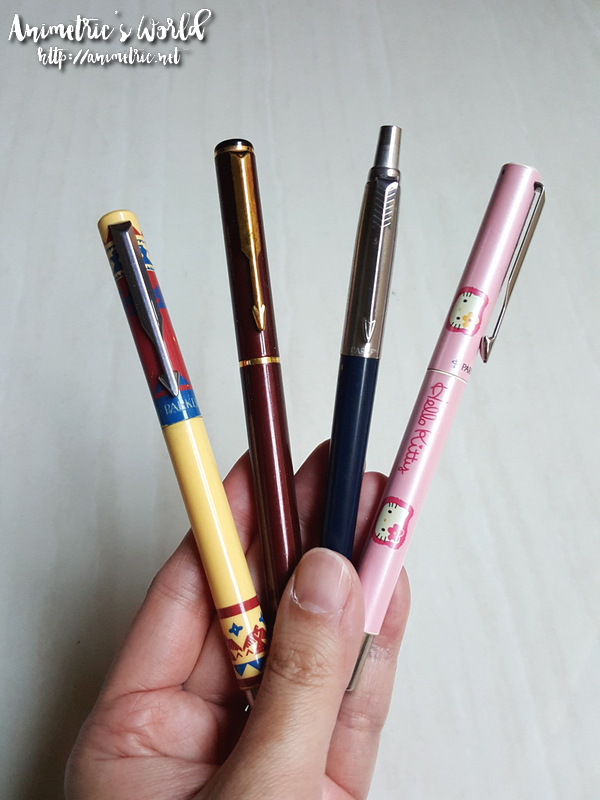 From L to R: Parker Vector Limited Ed, Parker Rialto, Parker Jotter, Parker Vector Hello Kitty Ed
So anyway I got my first job back in August 1995. I was a fresh AB Communication graduate from the Ateneo de Manila University. I ended up as the Corporate Marketing Manager of Parker Pens. See I still have all the pens I got from the one year I stayed on with Parker (except Hello Kitty I think I bought that abroad after but it's cute so it's up there). I'll make sure to tag my former boss when I post this hahaha!
I remember not having a cellphone when I got my first job. Back then, cellphones were super expensive and plans were not affordable for someone like me who was just starting out in the corporate world. My boss was nice enough to provide me with an analog phone I could use for work, a Motorola Microtac. All it could do was call. Texting was unheard of. I had a beeper from Infopage. We didn't even have internet in the office. Now that I think of it, it was a very challenging time because my role in the company entailed that I make client calls and coordinate with the office from the field most of the time. Although I had the title of manager, I had to sell Parker Pens by the hundreds to corporate accounts. Some of my clients back then included Pioneer Adhesives, Pilipinas Kao, Nissan North EDSA, SM Prime Holdings (yes I presented to Henry Sy Sr. lol and I initially didn't know it was him so I was trying to be funny!), etc. How much more convenient it would have been if I had a smartphone with data, text, and calls back then! I remember having to tell the messenger to pick up proofs, logo samples, etc. Nowadays people can just e-mail you hi-res photos and that would be it.

When you're working, you need to constantly communicate. The fact that you may not have load isn't an excuse anymore because hey, you're working! You're getting paid to accomplish certain things, I swear, youngsters nowadays so lucky because a lot of the first job problems we had before have been solved. For instance, it's now a lot more affordable to get your own phone and plan complete with data, texts, and calls. All you need to do is sign up for SUN Postpaid's Best Value Plan 599 and you already get the following:
Unli calls to SUN
Unli text to SUN
Free 400 texts to other networks
400MB mobile surfing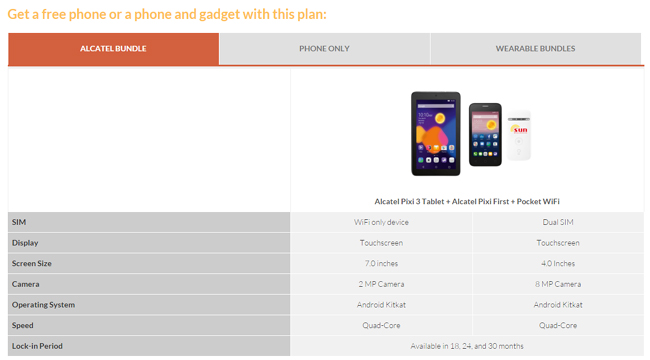 Need gadgets to go with it? Not a problem… you can sign up for the SUN Postpaid Value Plan 599 Alcatel Bundle. You'll get a pocket wifi and a FREE Android phone and tablet:
Alcatel Pixi 3 7″ Touchscreen Quad Core Tablet
Alcatel Pixi First Quad Core Dual Sim Smartphone
SUN Broadband Pocket Wifi
Unlimited SUN calls and texts
FREE 250 texts to other networks
200MB data for your phone
250MB data for your pocket wifi
If you need to upgrade from Prepaid to Postpaid, now is the perfect time to. For more details about the SUN Postpaid Best Value Plan 599, log on to http://suncellular.com.ph/plan599. You can check http://suncellular.com.ph/Personal/postpaid/application-requirements for application requirements.
Like this post? Subscribe to this blog by clicking HERE.
Let's stay connected: