We took the kids to California Pizza Kitchen (CPK) in Rockwell some weeks ago when our cook took the day off. CPK has always been one of their favorite places to eat but I haven't really blogged about any of our meals until now there for some reason. Even when we go visit my mom in the States, there's usually a day when we go to CPK.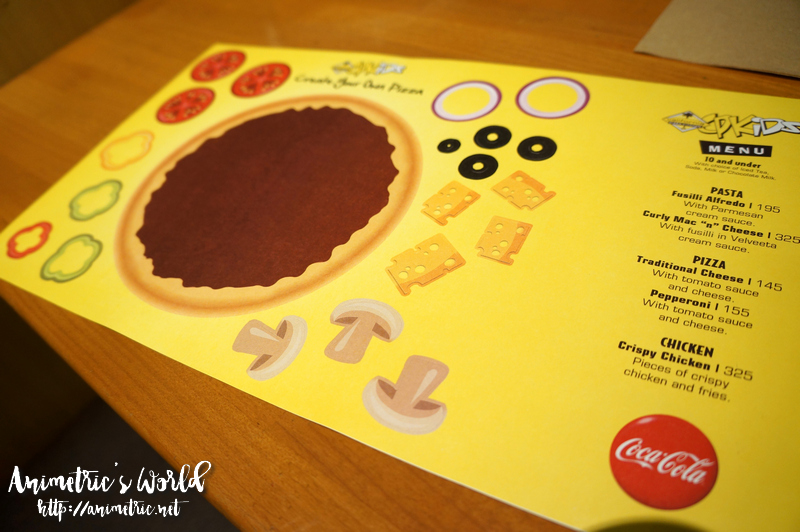 Instead of the usual paper placemat that you color, kids now get this sticker placemat where they get to design their own pizza.
The kids definitely enjoyed it more than coloring, lol.
Hubby and I ordered Chinese Chicken Salad (P275 Half) to share. Our kids are at an age where they have limited appreciation for salads (although our son is learning quickly) so we didn't get a big serving. We have been ordering this salad for the last several years, lol. This salad has got cabbage, lettuce, fried wonton strips, carrots, scallions, sesame seeds, and cilantro topped with chicken. It's tossed in sweet and sour dressing and drizzled with what seems like sate sauce. I like how it's light, refreshing, and crunchy.
We also ordered Fried Mozzarella (P150) upon the kids' request. They are best eaten right after serving so that they're still hot and the mozzarella inside is all gooey and stuff. They're served with a bit of tomato salsa on the side. Pretty good!
Since our kids have a penchant for white sauce-based pastas, we decided on Fettucine with Garlic Cream Sauce (P475 Family). The Family size is really good for sharing. I liked how light yet tasty it was and the kids just loved it. It's a very simple pasta dish but you can have add-ons like chicken or shrimp at an additional cost.
For our pizzas, we opted for Five Cheese and Fresh Tomato (P325) since our little girl doesn't like complicated ones with too many toppings. In other places, she would usually just have plain cheese pizzas. This pizza is topped with fresh Mozzarella, Monterey Jack, Gouda, Mozzarella and Pecorino Romano cheeses. The cheeses combine to bring you a very smooth savory taste that's just perfect.
We can never eat at CPL without ordering the family favorite: The Original BBQ Chicken Pizza (P375, pictured above). I swear, this has been our default order ever since they opened shop. Even my daughter who does not like toppings loves this. Its got barbecue sauce, barbecued chicken pieces, gouda and mozzarella cheeses, red onions, and cilantro. It's so good. No wonder we keep going back to it. No matter how many other CPK pizza variants I try, this is still always be the one.
We apparently ordered too much food for two adults and two kids so we ended up taking home four slices of pizza.
It was overall a great meal. I've always liked CPK's combination of good food, good service, and a nice, comfortable venue so we really enjoyed our lunch at CPK Rockwell.
California Pizza Kitchen
2/F Archaeology (near National Bookstore),
Power Plant Mall, Rockwell Center, Makati City
895-3447 / 895-5250
Like this post? Subscribe to this blog by clicking HERE.
Let's stay connected: