I had errands and work to do in BGC a few days ago when I decided to take a bit of time off at California Nails and Day Spa in Market! Market!. I thought I'd try their bestselling Gel Manicure (P750), Gel Pedicure (P800), and Aromatherapy Massage (P600).
California Nails and Day Spa is located on the third level of Market! Market!. The place is pretty big. They offer all the usual nail services like manicure, pedicure, foot spa, paraffin treatment, etc. Body treatments like Aromatherapy Massage, Filipino Hilot, and Fusion Massage are what sets them apart from other nail spas.
I have never tried real Gel Polish. I've only experienced the home versions with no UV lamps involved. They were not much different from regular polish, truth be told. Anyhow, I was given a literal basket of gel nail color samples to choose from at California Nails and Day Spa.
I picked Milky Blue as my shade.
We started with the Gel Pedicure. I was asked to soak my feet in warm bubbly water.
Then my nails were filed and my cuticles were trimmed.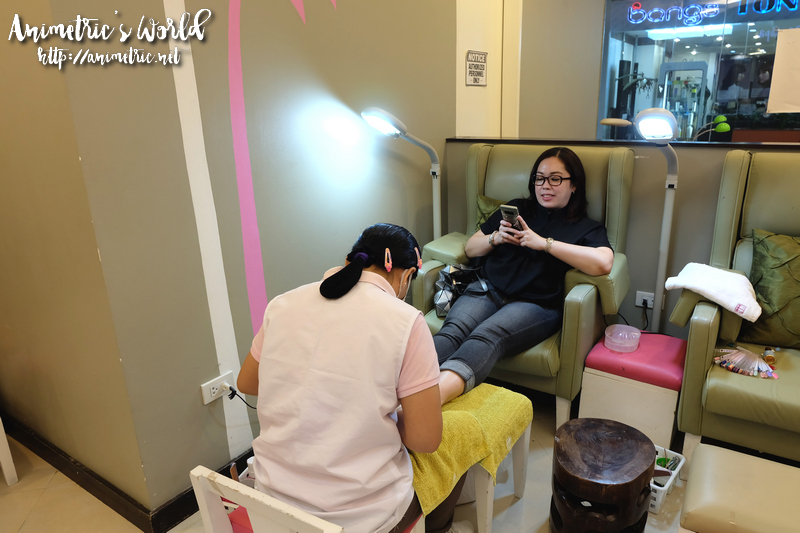 I just lay back and did some online stuff on my phone.
Like the Gel Pedicure, the Gel Manicure started with soaking my fingertips in warm bubbly water.
Since I went in at opening time, there weren't a lot of customers yet. Two nail specialists were assigned to me, which was great because it meant I'd finish faster.
Gel polish requires a lot of layers. Prior to applying the polish itself, they brushed on what I'm guessing is the base coat.
The gel polish followed. Several layers of it was applied.
After each layer of polish, I would be asked to place my fingertips under a UV lamp. The purpose of this is to "cure" the gel polish.
I love how quickly the gel polish dries. There was virtually no waiting time. It was completely dry after the last time I put my fingers under the UV lamp.
After my Gel Manicure and Pedicure, I went to the spa room where they do the full body massages. The Aromatherapy Massage makes use of essential oils to soothe and massage the body. You can tell the masseuse what level of pressure you prefer… in my case, it's light. The session lasts for 1 hour and 20 minutes so you're completely relaxed afterwards.
I'm pretty amazed with the Gel Manicure. It's now the 4th day and my nail polish shows no signs of chipping. I've been doing all the usual things I do too — cook, wash dishes, work out… they're really solid! The home gel polishes I've tried would usually chip within hours of application. No wonder people keep coming back to California Nails and Day Spa for this service.
All in all I had a lovely pampering session at California Nails and Day Spa. The staff are attentive, courteous, and efficient. Prices are very reasonable too. If you are looking to visit the Market! Market! branch, I suggest going early (like opening time) because the place gets packed quickly. By the time I was done, all the seats were already occupied and there was already a queue of people waiting to be serviced.
California Nails and Day Spa
3rd Level Market! Market!
26th St. cor. C5, Bonifacio Global City, Taguig City
886-7400
Like this post? Subscribe to this blog by clicking HERE.
Let's stay connected: