*This establishment is now closed.
Today was uneventful, as expected, because the family decided to start with proceedings relating to Dad on Monday. I can't blame them as all of us will be in for a very busy and most probably sleepless week starting Monday evening. Our cook took the day off as usual (she does so every other Sunday) and so instead of staying in bed all day to rest we went out for lunch. We decided to try Caliburger at Century City Mall.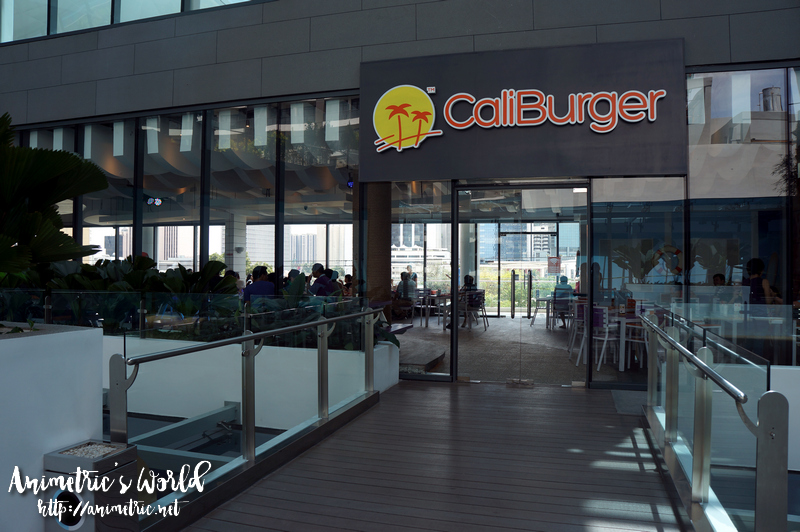 CaliBurger is the much-talked-about In-N-Out Burger doppelganger that recently opened shop in Manila. It's a franchise from California, USA.
I was surprised by how big and spacious the place was.
The menu is actually reminiscent of In-N-Out Burger's menu in its simplicity. You only have three kinds of burgers to choose from: Hamburger, Cheeseburger, or Chicken Burger. Then you can double up (2 patties) to Cali Double (Double Cheeseburger) or Chicken Cali Double. The only siding available is Fries. It's pretty much the same at In-N-Out Burger.
Anyhow we placed our orders at the counter. We were given this device which lights up and vibrates when the orders are ready so you can go back to the counter and get them.
Caliburger's furnishings have sort of a beach side vibe.
Caliburger has three set meals, namely A, B, and C. I went for set B (P325, pictured above), which consists of Cheeseburger, Fries, and Soda. The burger is quite small, so small that my 9-year old daughter finished it easily (she ordered Cheeseburger ala carte for P225). The patty reminded me of a McDonald's patty to be honest. I felt it was grossly overpriced at P225 because it's small and it tastes like a McDonald's burger, just pumped up with more veggies and gooey melted cheese.
These are the Fries that came with my meal set. If you order ala carte, it will set you back P75. Hubby had set C (P395) which consists of Cali Double, Fries, and Soda. The Cali Double looks exactly like my Cheeseburger except that it has 2 patties. Our son had a Hamburger (P195), which is exactly like the Cheeseburger just minus the cheese.
Both hubby and I had upsized drinks (add +20 to your order) so that the four of us could share. Sodas cost P75 each so it's more economical to just order 2 and then upsize them for an additional P20 each for sharing.
Our CaliBurger lunch bill came out to P1,185, which is REALLY expensive for McDonald's-tasting burgers, plain fries, and sodas. Don't get me wrong, I like McDonald's burgers, I think their patty is really nice and beefy, especially the quarter pounder… but I would just go to McDonald's, right? The burgers were so small that we were hungry again maybe 2-3 hours later. I remember having a hard time finishing my cheeseburger at In-N-Out in the US and feeling so full that I skipped dinner that same day.
Suffice to say, I don't think we'll be back.
CaliBurger
4/F Century City Mall
Kalayaan Ave., Makati City
Like this post? Subscribe to this blog by clicking HERE.
Let's stay connected: