Last night as I was hurriedly going down the stairs at home, something I do every single day, I had a misstep (as in I missed one step, Lord knows why). As a result I lost my balance and tripped. Luckily my left hand was able to hold onto the banister so I didn't go all the way down. My left arm is super sore now as a result of having received most of the impact. You're probably thinking what has that got to do with Calchews Calcium Soft Chews… lol.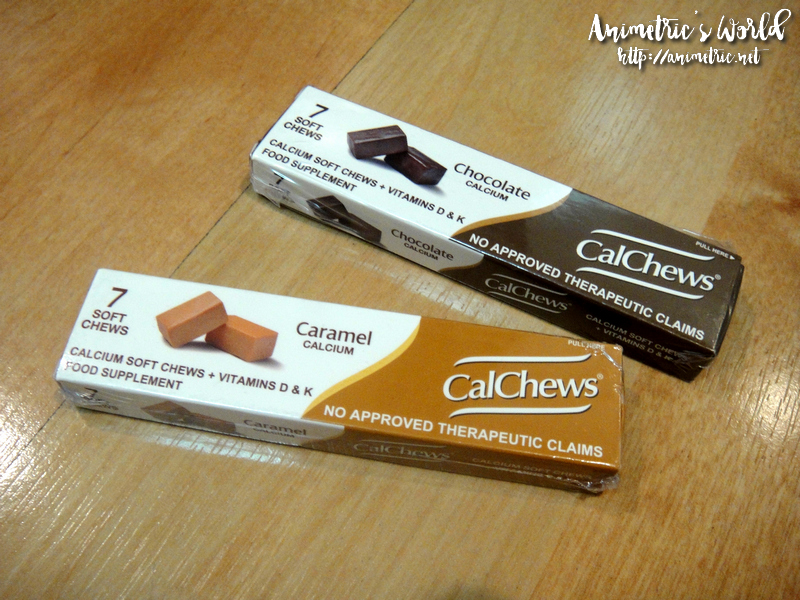 CalChews Calcium Supplements (P90.20 per pack of 7 chews)
Although I don't look it, fact is I am officially over 40 years of age. Now more than ever I should be more careful especially where my bones are concerned. I've heard too many stories of older people falling and breaking something then never recovering fully. One can't really live comfortably if one limping or is in constant pain. I'm a coffee drinker to boot and caffeine leeches calcium away from your bones. I'm not just saying it because I had a bone density test from before I got the habit of drinking coffee everyday to one year after. My bone density went from being above average to below average. That's how destructive caffeine is to your bones. So yes, I need all the calcium I can get.
One yummy and convenient way to get a much needed calcium boost is by taking Calchews — soft, chewy, candy-like supplements which contain a whopping 500mg of calcium plus Vitamin D3 and Vitamin K per chew. Calchews come in two flavors: Caramel and Chocolate. They cost around P13 if you buy the pack of 7, P12 per chew if you buy the pack of 15. What's more, Calchews contain only 20 calories per serving.
In order to promote optimum bone health, all you need to do is take 1 a day. Both the Chocolate and Caramel flavors taste great so it's kind of hard for me to decide on a favorite.
They're soft, chewy, and fudgy… not at all anything like the usual vitamin supplements. The problem is actually stopping at one piece. They're so good it's easy to forget they're not candy.
Complete Nutrition Facts are provided at the back of each pack.
What I like about Calchews Calcium Soft Chews:
Both flavors super yummy (which is kinda bad, because it's hard to not want to eat another piece after having one).
They come in convenient and easy-to-carry-around packs.
They're reasonably priced at P12-13 per dose. It's actually cheaper compared to a full glass of fresh milk.
They're a great alternative to dairy products (if you're averse to dairy) as a calcium source.
Downside? Like I keep saying, it's hard to stop chewing on these… lol!
Calchews Calcium Soft Chews are available at leading drugstores nationwide.
Like this post? Subscribe to this blog by clicking HERE.
Let's stay connected: