Kumori Philippines, a Japanese bakery with stalls in Makati food courts, opened a full-fledged cafe at the Block in SM North EDSA last Monday. It's called Cafe Kumori (surprise… not!). Lol.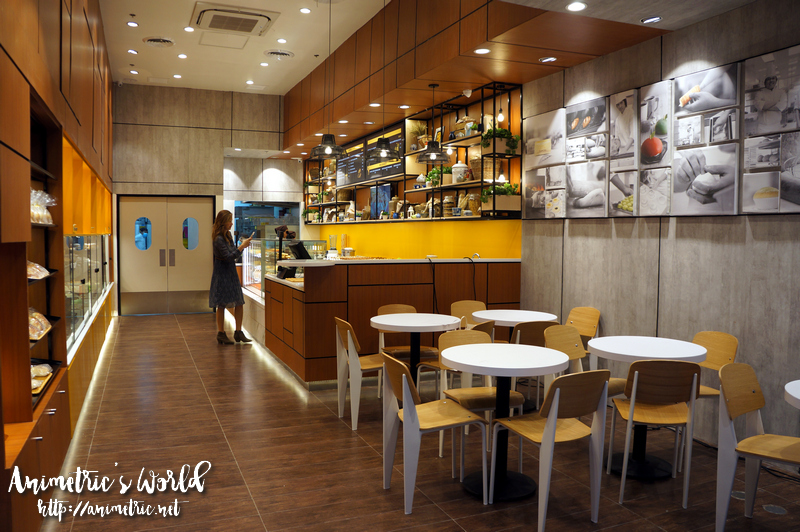 Super love the entire setup. The wooden cabinets with glass shelves are reminiscent of bakeries I passed by while walking in Ginza last year.
They have so many delicious breads and pastries lined up it's hard to pick which ones to purchase. I wanted to try them all… oh if only my waistline would permit it.
Spied our favorite Soft Matcha Bun (P48) and Fuwa-Fuwa Cream Bun (P48) on the top shelf!
I don't know what these breads are called but they look really soft and yummy.
This is where pay for your goodies.
Kumori Signature Hanjuku Cheese (P48 per piece) — the melt-in-your-mouth sensations that made Kumori a household name.
They have savory breads and pastries too!
We got to try a few Cafe Kumori favorites — Cottage Cheese (OMG levels of dreamy creamy heaven), Saku-Saku (the chocolate slice), Caramel Crunch (light sponge cake topped with caramel), Krone (it's that thingy in the middle of my plate and it's filled with Japanese CUSTARD!), and of course the Signature Hanjuku Cheese.
Since this is Cafe Kumori, you can now order drinks! We tried sampler sizes of their milkshakes, like this Japanese Sweet Corn Milkshake (P165 for a full order). Even the cereal and popcorn they used to garnish are Japanese — they used the Tohato brand, I could tell. This tastes like sweet corn blended with milk and possibly vanilla ice cream.
We also tried the Matcha Milkshake (P185 for a full order). It kinda reminds me of Starbucks' Green Tea Frappuccino except that it's less sweet (better for me, lol).
Anyway, I can't wait to go back to Cafe Kumori and try the intriguing 6 Hour Cold Brew Coffee along with the other baked treats which I haven't tasted. SM North EDSA is closer to me compared to Makati so that should be soon.
Cafe Kumori is located on the ground level of The Block, SM North EDSA.
Like this post? Subscribe to this blog by clicking HERE.
Let's stay connected: