Some weeks ago, Manila Bulletin published 50% off coupons for the newly opened Cafe Ilang-Ilang in Manila Hotel. Cafe Ilang-Ilang is the latest multi-cuisine extravaganza to hit the eat-all-you-can buffet scene. Anyways, my aunts and uncles all clipped coupons and well… a dinner date was set for us!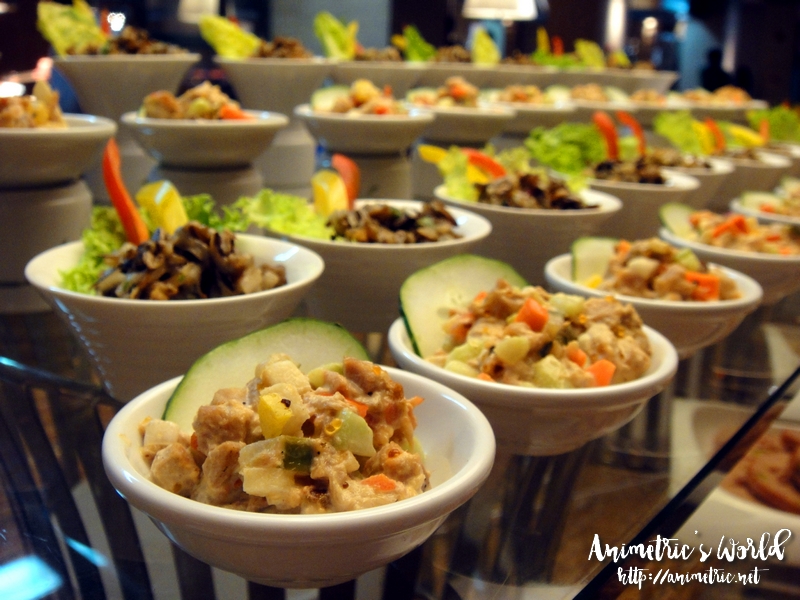 I was awed by the place. It was huge. There were food stations everywhere. If you don't explore every single corner, you will surely miss something.
There was Spanish, Japanese, Italian, Chinese, and Indian food. It was really hard to decide what to get first.
I noticed though that there was a premanent line at the carving station. There was Colombian beef, porkloin, salmon, and other stuff.
There was an array of sushi and tempura at the Japanese station.
I got some hummus from the Indian station along with some rotis and papadams. The hummus looks good but it's actually tasteless. :p
The way they arranged the sliced fresh fruits for dessert was pretty impressive.
It was the first time I saw a strawberry fountain too, usually it's either milk or white chocolate. Too bad I forgot to try it. XD
I forgot to try these tarts as well… all I had for dessert was walnut gelato which was absolutely divine. It's so easy to get full due to all the food available!
Thanks to the coupons, we ended up paying around P3,000 for 4 people. The regular prices are P1,550++ for lunch and P1,700++ for dinner. Coffee and tea are included too.
Cafe Ilang-Ilang
G/F Manila Hotel
One Rizal Park, Manila
527-0011 loc. 1261
Like this post? Subscribe to this blog by clicking HERE.
Let's stay connected: