Around 2 weeks ago, we celebrated our friend's birthday at Cafe 1228 in New World Makati Hotel. This is where the buffet is, lol. They're open from 6am to 10:30pm daily. They have a promo going on right now — if you have a BDO credit card, you get 50% off the buffet rate and a free round of drinks. You can choose between iced tea, soda, and juices. This promo is valid from now until Sept. 30, 2017.
The Cafe 1228 dinner buffet normally costs P2,499 per person. With 50% off, it's down to P1,262.
It's the typical hotel buffet with a wide range of appetizers, main courses, and desserts. The place is rather dim but all the food stations are well-lighted.
I love cheese. I always make a beeline for the cheeses whenever I'm in a hotel buffet. They have a modest selection of cold cuts, breads, nuts, and candied fruits to go with your cheese. All the cheeses were yummy, so even if there were only 4 kinds, I enjoyed each one.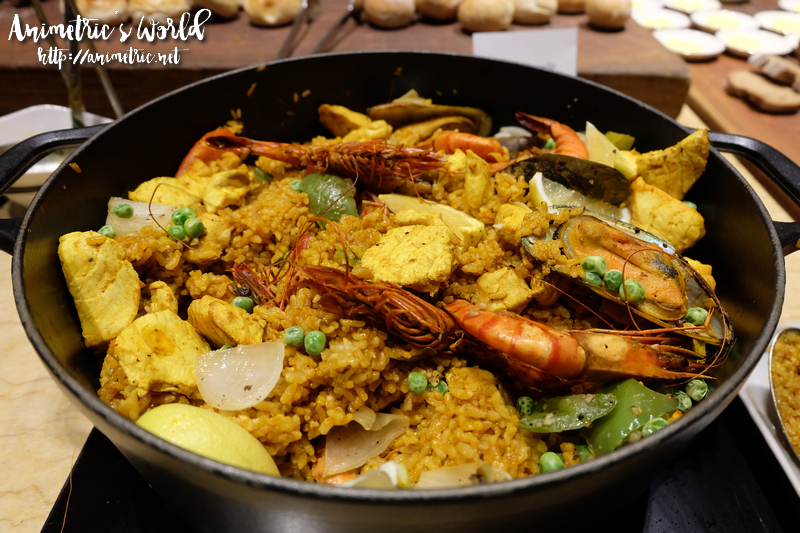 My daughter and I saw the paella and immediately got some. Kind of bland but not bad. Cucina at Marco Polo Ortigas definitely serves the better buffet paella.
There was Ribeye at the Carving Station and I had some with gravy.
Several kinds of sushi and sashimi are available too.
You can actually have a full-on Japanese meal here because they also have tempura, miso soup, teriyaki, tonkatsu, etc.
There's no shortage of seafood either. Oysters, shrimps, fish… you can even have them cooked the way you like them.
They have all the usual fancy little cakes for dessert and then some, like this Pandan Creme Brulee. There's a Crepe Station as well as an Ice Cream Scooping Station too.
This is where you choose your free drink which comes with the BDO promo.
Cafe 1228 buffet rates are as follows:
Weekday lunch buffet – P2,099 (P1,060 at 50% off)
Weekend lunch buffet – P2,399 (P1,212 at 50% off)
Dinner buffet – P2,499 (P1,262 at 50% off)
Since kids 12 and below are normally 50% off the adult rate, they don't get an additional 50% off from BDO so you pay the same price for kids.
Though the selection is more modest compared to other hotels (they have less dishes than Vikings), I quite enjoyed dinner. I don't eat as much as I used to so I thought it was okay. Definitely good value for money at P1+k. Paying the regular P2.5k for it would be too much though lol. Buffet menu changes daily so it's never exactly the same.
You can find the full BDO promo details HERE.
Cafe 1228 at New World Makati Hotel
Esperanza St. cor. Makati Ave.,
Ayala Center, Makati City
811-­6888
Like this post? Subscribe to this blog by clicking HERE.
Let's stay connected: