Hubby and I had a late lunch at this hole-in-the-wall in Banawe last Saturday — Bugis Singapore Street Food! It's a little green place located in between some non-descript gates. Again, this entire blog post features photos taken by the Xiaomi Mi3's camera.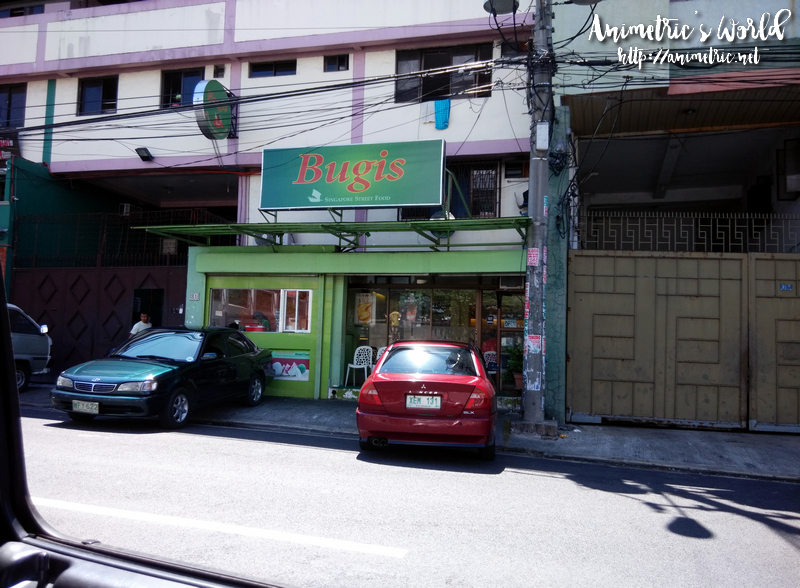 We had to park across the street because the front of Bugis Singapore Street Food was full when we got there. I took this pic as we were leaving after lunch.
The place seems tiny at first glance but there are actually more tables at the back.
Bugis Singapore Street Food is apparently known for their fresh fruit juices and shakes. Hubby ordered a Kiwi Shake (P95), while I had an Almond Shake (P75). The verdict? Wow. The Kiwi Shake is made of real fresh Zespri Kiwi and was both filling and refreshing, while my Almond Shake was like Hot Star Chicken's Almond Ice Crush except that it's bigger and cheaper! Milky, creamy, and mildly sweet… yum! My new favorite drink, hahaha!
For starters we ordered some "NumNums" as the menu called them. They're basically deep fried breaded food items like Scallops (P35 per stick), Squid Fingers (P35 per stick), and Lobster with Cheese (P25 per piece). Really nice and crunchy, I drizzled them with sweet chili sauce.
You can pick out your NumNums from here if you can't decide via the menu.
For my main dish, I decided on Chicken Satay Rice (P80). Two sticks of grilled chicken meat is served with peanut sauce and what was supposed to be Nasi Goreng (Indonesian fried rice with shallot, garlic, chili, egg, chicken, peanuts, and prawns) but looked and tasted more like Kiampong (Chinese style rice dish with peanuts, chicken, and scallops which is kinda like Adobo rice but not really). Still, it was okay, especially since I paid only P80 for such a filling and tasty rice meal.
Hubby had Hainanese Chicken with Rice (P180) which came with all the trimmings — soup, three kinds of dipping sauces, and a quarter portion of chicken.
It reminded me of Wee Nam Kee's Personal Set but of course I think Wee Nam Kee's is better because they have the roast version of the chicken which has crispy skin. I don't like eating boiled chicken skin… anyhow, Bugis' serving of chicken seemed bigger than Wee Nam Kee's.
We were so full after so our drinks doubled as dessert, lol. Bugis Singapore Street Food was pretty packed when we got there at almost 1pm but by the time we were done the lunch crowd had passed, so it was pretty relaxed by then. We'll definitely be back, I think it's a nice snack place with the NumNums and drinks. There are a lot of dishes on the menu we have yet to try too… like the Laksa, Kaya Toast, etc. 😀
Bugis Singapore Street Food
81-A N. Roxas St., Banawe, Quezon City
732-6491
https://www.facebook.com/BugisN.Roxas
Like this post? Subscribe to this blog by clicking HERE.
Let's stay connected: