I've been to Buffet 101 Robinsons Magnolia a grand total of three times. The first time was when hubby and I celebrated our 13th wedding anniversary last December. We just wanted to eat, haha! I'm not the sentimental type and I hate flowers so pigging out at Buffet 101 was just the thing. The next time I was there, we treated our suppliers. My most recent visit was last January 1 because it was where we had our New Year's lunch with hubby's family.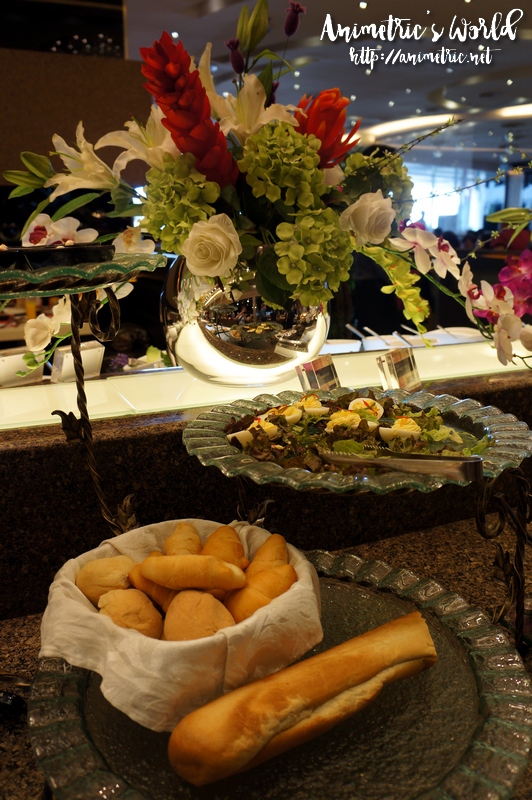 There's so much food at Buffet 101 Robinsons Magnolia that it's impossible to photograph even 25% of the spread on a single trip. It's always full-packed with people even on weekdays so taking pictures isn't easy, especially of the more popular food items like crabs and oat prawns. They have several kinds of breads, spreads, and dips for starters.
Cold cuts? Present! Both the western kind and the eastern kind you'd usually encounter at lauriat parties.
One of my favorite dishes which I always go back for every trip is Cheesy Broccoli. Yum! The broccoli is naturally sweet and crisp. They are cooked in cheese sauce and topped with lots of gooey cheese. So good!
There's endless Ebi Tempura (shrimp) and Kakiage Tempura (vegetable).
There's Japanese Fried Rice as well as at least 2-3 other kinds of rice, including Risotto.
Filipino dishes abound too. Crispy Pata, Daing na Bangus…
This is another popular buffet item — Seafood Chowder with Pastry. I haven't tried it yet but next time I will!
There's a dimsum and noodle station where you can get freshly steamed dimsum like Siomai, Hakaw, Ham Suy Kok, Radish Cake, Fried Mantou among many others. You can even have them cook custom made mami. There are also food items like Hong Kong Hot Dogs, Pork Asado…
What do you know… Peking Duck Rolls? No, they are actually Chicken Rolls made the exact same way Peking Duck Rolls are. Yummy all the same!
There are at least a dozen kinds of sushi complete with a variety of pickled vegetables to accompany them.
There's Japanese-style cold noodles and kani (crabstick) salad too.
Chinese-style viands abound — Sweet and Sour Pork, Beef with Broccoli, Spareribs… and so much more I can't recall. There's even pizza and pasta as well as meats like Baby Back Ribs, Fried Chicken, a variety of roasted meats, and more. French Fries, Potato Wedges… you name it, they have it. It gets so confusing trying to decide what to try…
There's a long table dedicated to just desserts. There are fresh fruits, a chocolate fountain, an ice cream station…
There are also numerous cakes and pastries as well as a Halo-Halo station.
The eat-all-you-can buffet comes with drink-all-you-can beverages too. You can have sodas, juices, coffee, tea, and best of all fresh fruit shakes! My fave is the pineapple shake. They put fresh pineapples into a blender, add some syrup and ice, then zap them all. It's soooo good. Alternatively you can have mango, papaya, or watermelon shake.
There are different prices for different days and times at Buffet 101:
Mon-Fri Lunch P599 (except Public Holidays)
Mon-Fri Dinner P950 (except Public Holidays)
Saturday Lunch P799 (except Public Holidays)
Saturday Dinner, Sunday, and Public Holidays P1,050
Children below 4.5 ft. P499
Children below 3.5 ft. Free
Leftover Price P1,350
Since elderly folks with Senior Citizen IDs get 20% off, the place gets really packed with seniors especially during weekday lunches. There's no service charge so the prices above are net prices. The most economical time to dine would be weekday lunch as long as it's not a public holiday. Although the restaurant is huge, reservations are recommended since the place is always full. One time we had to dine out at the al fresco area simply because there was no more space inside.
Buffet 101 International Cuisine
2/F Robinson's Magnolia
Aurora Blvd. cor. Hemady St.,
New Manila, Quezon City
961-2926 / 961-3025
Like this post? Subscribe to this blog by clicking HERE.
Let's stay connected: