Here's another US franchise that's opening its doors here in the Philippines — Buffalo Wild Wings! Buffalo Wild Wings' first Philippine store is located at Estancia Mall in Pasig City. We were invited to their dry run last Monday night.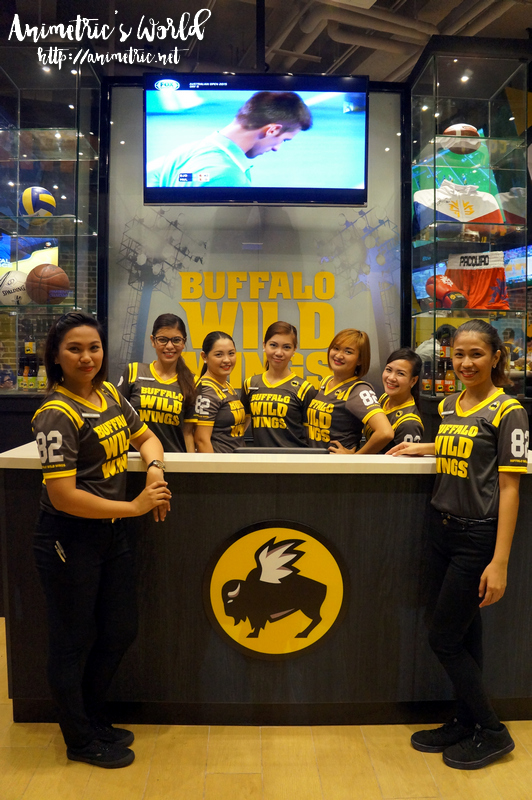 This is the reception area that will greet you upon entry. Buffalo Wild Wings' super friendly staff gamely posed for a photo! 😀
Buffalo Wild Wings is actually a sports bar. There are large flatscreen TVs all over the place tuned in to many different sports channels.
The place was jam-packed for the dry run. There were foreign staff training their Pinoy counterparts. It was their first full-service session so I was not expecting perfection.
Classic Lime Limeade (P155) and Berry Lemonade (P145)
To start off our evening, hubby and I each ordered a drink. He had Classic Lime Limeade while I ordered Berry Lemonade. I liked it — not too tart and not too sweet. I didn't taste the Limeade but hubby said he didn't like it.
Chips and Salsa (P235)
We were served appetizers starting with Chips and Salsa — warm tortilla chips served with tomato salsa. The salsa is fresh and tasty. It goes well with the crunchy tortillas.
Chili Con Queso Dip (P325)
There's another version of tortillas, this one is served with Chili Con Queso Dip. Cheese sauce is mixed with chili and pico de gallo (pico de gallo is a fresh, uncooked salad made of chopped tomato, onion, coriander leaves, etc). Yummy!
Jalapeno Pepper Bites (P395)
This is my favorite appetizer — Jalapeno Pepper Bites. Breaded mozzarella is stuffed with a whole jalapeno, cheddar and mozzarella cheeses, and bacon. It's served with Southwestern Ranch dressing on the side for dipping. Cheesy with just the right amount of spicy… I love it!
Chicken Salad (P325 / with Grilled Chicken P475 / with Blackened Chicken P475)
Then we had Chicken Salad with Grilled Chicken. The chicken is spun in your choice of Buffalo Wings sauce, the chicken in this salad was cooked in their Honey Barbecue sauce. The salad was also served with Ranch Dressing on the side. The chicken is so tasty we actually could do without the dressing.
Hand-Spun Wings (Snack 5 pcs. P295 / Small 10 pcs. P495 / Medium 15 pcs. P695 / Large 20 pcs. P895)
Up next was Buffalo Wild Wings' specialty — Hand-Spun Wings! We were served a Large portion seasoned 4 different ways: Salt and Vinegar, Parmesan Garlic, Honey Barbecue, and Medium (classic wing sauce that's comfortably hot). I tried one of each. There are well over a dozen different sauces and seasonings you can choose for the Hand-Spun Wings. Of the four I tasted, I liked Salt and Vinegar best. I found the wings kind of small though… I hope they use larger ones next time.
Wings are served with celery and carrot sticks plus your choice of bleu cheese or ranch dressing. I highly recommend the bleu cheese. I really loved munching on these. The carrots were sliced too thickly though, they would be a lot easier to eat if they were a bit thinner.
Pepper Jack Steak Wrap (P495)
Hubby and I agreed that the best thing we ate that night was the Pepper Jack Steak Wrap. A soft flour tortilla is bursting with super tender and juicy seasoned prime rib, pepper jack cheese, lettuce, pico de gallo, and southwestern ranch dressing. It's served with corn tortilla chips and salsa on the side. My photo sucks but this is really really good. I would order it again when we go back with the kids. The flour tortilla is soft and chewy plus let's not forget the incredibly delicious steak.
Spinach Artichoke Chicken Flatbread (P445)
Oven-baked flatbread pizza is topped with creamy spinach artichoke dip, chicken, and a provolone-mozzarella cheese blend. Nice when eaten hot. It becomes stone hard when it cools — I pointed this out to the Buffalo Wild Wings folks so they can fix it when they formally open.
Black and Bleu Burger (P525)
I was super full at this point so I was unable to sample the burgers — there were a lot. I will just share a pic of a very indulgent one with you, lol. This one is topped with a lot of bleu cheese. I tried ordering dessert but they were not yet available that night.
Hubby tried Belgian Style Wheat Ale (fancy term for beer lol) in the form of Hoegaarden, his favorite beer. They have a special glass at Buffalo Wild Wings that uses the patented bubble technology — I'm not really sure what it does but it supposedly keeps the beer at its best tasting form… something like that. I had a sip and this Hoegaarden draft beer is really good.
Thank you Buffalo Wild Wings for inviting us for a sneak preview! We'll definitely be back with the kids — hopefully there will be dessert by then!
Buffalo Wild Wings
G/F Estancia Mall,
Capital Commons, Pasig City
Like this post? Subscribe to this blog by clicking HERE.
Let's stay connected: