It's been a while since I last visited Bubba Gump Shrimp Co. Restaurant and Market (although there isn't really a market) in Greenbelt. I remember it opened sometime after the Forrest Gump movie was shown. It's one of the few movie-themed restaurants here in Metro Manila.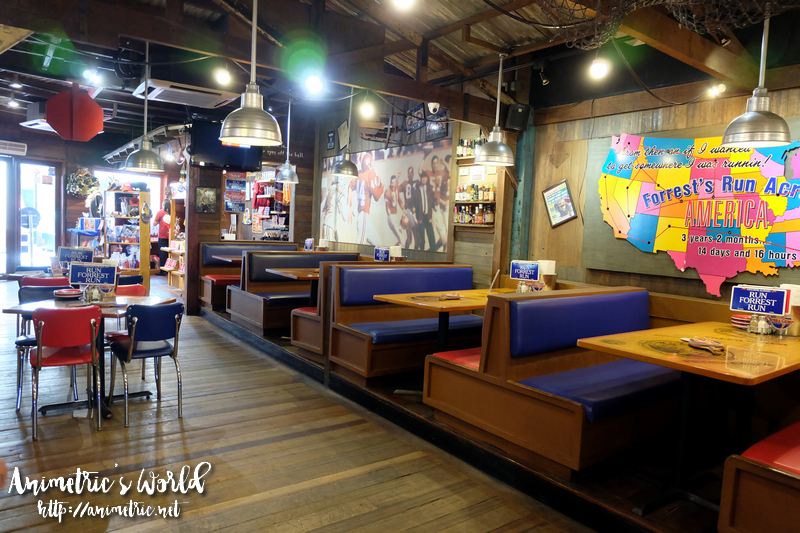 It still looks the same as when it first opened years ago. I still remember the first time I had dinner at Bubba Gump with friends, we stayed at the back area (not shown here) and ordered buckets and buckets of shrimp. This time I went with hubby and the kids. The kids were pretty awed (even if they haven't seen the movie) since it was their first time there.
Frizzled Onion Strings (P195)
We skipped breakfast and headed straight for Bubba Gump Shrimp Co. Restaurant and Market for lunch. We decided to order everything from appetizer to dessert starting with the Frizzled Onion Strings. I love onion rings but good ones are so darned hard to find. We all loved Bubba Gump's version. The onions are sliced thinly and fried crisp to perfection. They're already seasoned so you don't really need the sauce but it's good to have them anyway. There are 3 sauces that go with it: Tartar Sauce, Hickory Barbecue Sauce, and something that tasted kinda like Thousand Island Dressing.
Dixie Style Baby Back Ribs (P995)
Then we had Dixie Style Baby Back Ribs. The ribs were very tender. I was able to divide the whole slab into 4 quite easily. Love that it comes with extra hickory barbecue sauce too. So yummy! I didn't care much for the coleslaw though which I found rather crude. It struck me as coarsely julienned veggies smothered in mayo.
Lt. Dan's Drunken Shrimp (P545)

Our son picked this dish off the menu. Tender and flavorful shrimp with Andouille sausage and garlic mashed potatoes — yum! This was a hit with everyone and was gone too soon.
Shrimp Rigatoni (P590)
Rigatoni cooked perfectly al dente is tossed with sauteed shrimp, fresh spinach, and tomato pesto cream sauce. Yummy!
Chocolate Chip Cookie Sundae (P380)
For dessert, we opted for Chocolate Chip Cookie Sundae. A piping hot freshly baked giant chocolate chip cookie is topped with vanilla ice cream, whipped cream, and chocolate sauce. Eating everything together in one spoonful is the perfect way to enjoy this. The cookie is super moist and chewy! We all loved this dessert.
We had a great lunch at Bubba Gump Shrimp Co. Restaurant and Market. Everything we ordered was completely wiped out. Although food is on the pricey side, the flavors are fabulous and the servings are good for sharing. We actually had a hard time deciding which dishes to order because there are a lot of choices! If you still haven't tried Bubba Gump Shrimp Co. Restaurant and Market, I highly suggest you pay a visit sometime. 🙂
Bubba Gump Shrimp Co. Restaurant and Market
2/F Greenbelt 3
Esperanza St., Makati City
757-5154
Like this post? Subscribe to this blog by clicking HERE.
Let's stay connected: