Took the kids to The Brewology Cafe last Sunday for lunch. Hubby's out of town for a week so it's only us three. My kids are always wanting to try something new these days when it comes to food. The Brewology Cafe was perfect since it was just a 10-minute drive from our place.
I made reservations via the BigDish app to ensure we have seats. We get a 20% discount of our bill too.
The place is quaint and rather small so reservations are recommended.
We started with a couple of drinks. My daughter had Iced Chocolate (P160) while I ordered 16-Hour Cold Brew Heaven on Earth (P165). Their chocolate drinks are concocted with homemade chocolate ganache. The cold brew was refreshing. I had it without any milk, cream, or sweetener. It worked great as a palate cleanser.
For lunch, we decided to order different things. I had the Beef Bulgogi Tapa (P190). OMG. So amazingly good. Underneath the perfectly fried sunny side up egg and tender tasty beef pieces is the yummiest kimchi rice ever. Not too spicy so even my kids loved it. They were wishing they ordered this dish after getting a taste.
My daughter had the Pepperoni + Mozzarella Sandwich (P210). It's served with potato chips and ketchup on the side. The bread is really really good. They actually make it themselves! I suggest getting a sandwich (there are other fillings) so you can try the bread. I'd buy a loaf if they were selling it.
My son opted for Chicken and Spiced Honey Waffles (P290). Crispy battered chicken breast fillets and coleslaw are sandwiched between honeyed waffles. The serving size was a bit underwhelming but the overall flavor profile was pretty awesome.
For dessert we tried a Red Velvet Brookie (P65) off the chiller. It's half chewy chocolate chip cooke and half moist red velvet brownie. The kids loved it!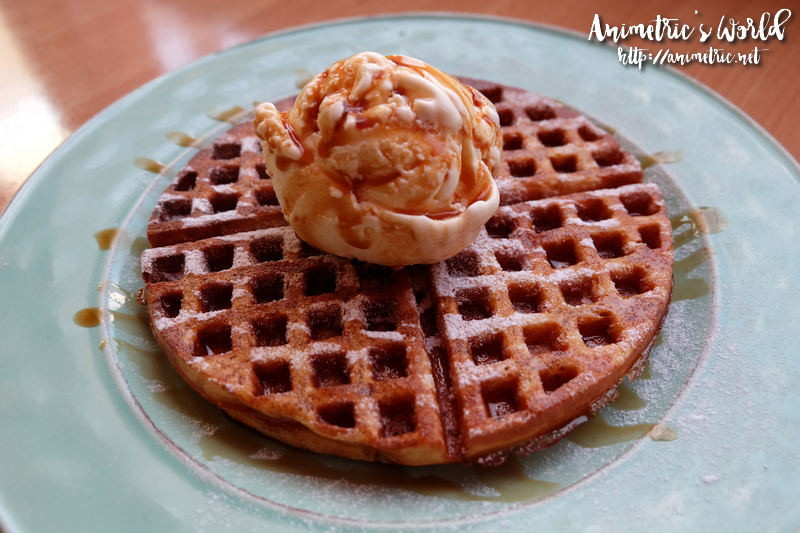 We also ordered their bestselling Waffogato (P160). Buttermilk waffles are drizzled with homemade coffee syrup and topped with a scoop of vanilla ice cream. Yum! The syrup is what really makes this special.
Total bill for 3 people? P1,240. If you deduct the 20% discount from BigDish, it comes out to a little under P1,000. Not bad considering we also had drinks and dessert.
The Brewology Cafe is a literal hole-in-the-wall due to its small size. Its offerings however are big on taste and creativity. Serving portions are generally okay and prices are reasonable considering they have a lot of homemade stuff going on. I recommend going during their off-peak hours — after opening, in the middle of the afternoon, etc as there are limited seats and parking spaces. Don't forget to book your table via BigDish. 🙂
The Brewology Cafe
2/F No. 2 Scout Lazcano cor. Sct. Magbanua St.,
Quezon City
501-2138
Like this post? Subscribe to this blog by clicking HERE.
Let's stay connected: