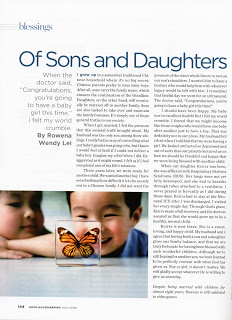 I was updating my online writing portfolio over at Multiply last night when I ran across the first magazine article I ever wrote. It was for Good Housekeeping Philippines' April 2008 issue, I remember it had J Lo on the cover. How ironic that 2 years later, I've only made my 2nd contribution to GH while I've lost count of the number of articles I've written for other magazines.
In that article (you can click on the photo on the left to see a full-sized readable scan) I recounted the pressure I felt when I was pregnant. You see I married into a traditional Chinese family, and as per tradition it was CRUCIAL that I have a son or two somehow. Now how was I going to control something like that? I actually know someone who comes from a family of eight siblings — all of them are girls because her parents kept on trying to conceive a boy. Eight kids later, still no son. I'm not crazy and I'm not going to attempt anything like that. It is precisely this sort of thinking that caused the abortion and abandonment of numerous baby girls in China in the past. Just google "baby girls in China" and you'll see what I mean. Don't any of the hardcore patriarchal societies who belittle women so much realize that without women there'll be no men and no more human race eventually?
I remember one of my friends telling me that when my now 5-year old daughter grows up and reads this article, she might take it negatively. I beg to differ, I think I have made it rather clear that my husband and I love both of our kids and that at this point, we'll gladly accept what God will give us. We're just grateful that our children are healthy and normal.
Just some random morning thoughts before setting off for work. 🙂
Like this post? Subscribe to this blog by clicking
HERE
.