I got to try the new Tropicana Juice Plus drinks last week. There are two variants out: Calcium Boost and Antioxidant Boost. There seems to be an orange juice craze ongoing right now with different brands but these caught my attention. I think it's mainly because of the word antioxidant… hahaha! I'm just really obsessed with anything related to anti-aging (because I am already well into my 30's) and since antioxidants help keep the skin firm and nice well… you get the picture.
Tropicana Juice Plus orange drinks are high in vitamins A, C, and D. There are no preservatives too.
Of course I had to try Tropicana Juice Plus Antioxidant Boost first. It contains high levels of vitamins C and E to help your body fight free radicals. Free radical damage is widely considered to be the primary cause of aging (think wrinkles, sagging skin, age spots, etc.). Taking in food and drink rich in antioxidants help you fight free radicals and therefore keep you looking and feeling younger longer. 🙂
I have low tolerance for sweet tastes. I can't stand sugary food and drink. In fact I have coffee and tea with no sugar at all. Lucky for me, Tropicana Juice Plus is not overly sweet like most orange drinks. The taste is more on the citrusy side. Yey! I love it… in fact I find it addictive. 😀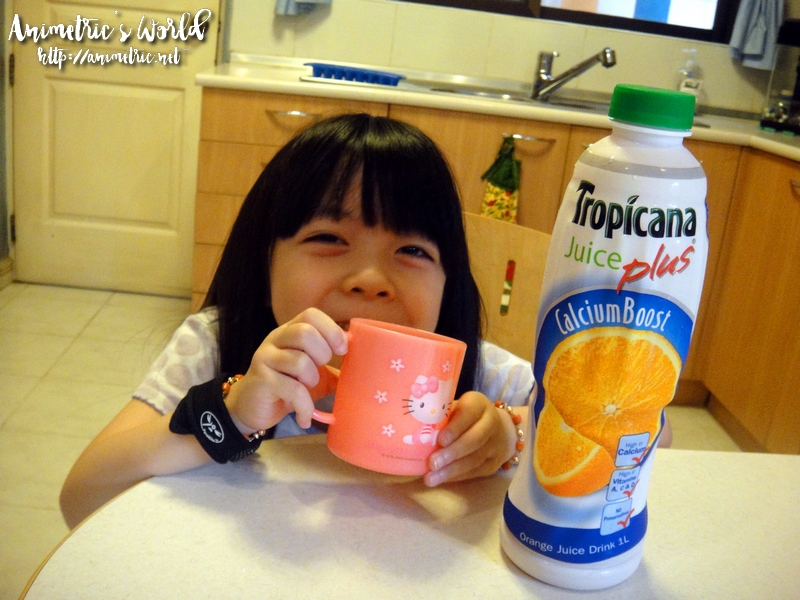 I had my daughter sample Tropicana Juice Plus Calcium Boost. As the name suggests, its high in calcium so it helps strengthen your bones and teeth. My little girl is really bothered by pulp bits and so she liked this had none. I tried this as well and the two variants taste exactly the same. If you're one of those people who can't stand milk, this could be a nice alternative.
Tropicana Juice Plus is available in 250ml cans and 1 liter bottles in leading supermarkets and drugstores nationwide.
Like this post? Subscribe to this blog by clicking HERE.
Let's stay connected: