When you say Bonchon, chicken is what usually follows next. So when I received an invitation from Bonchon Chicken with the word seafood in it, my curiosity was piqued.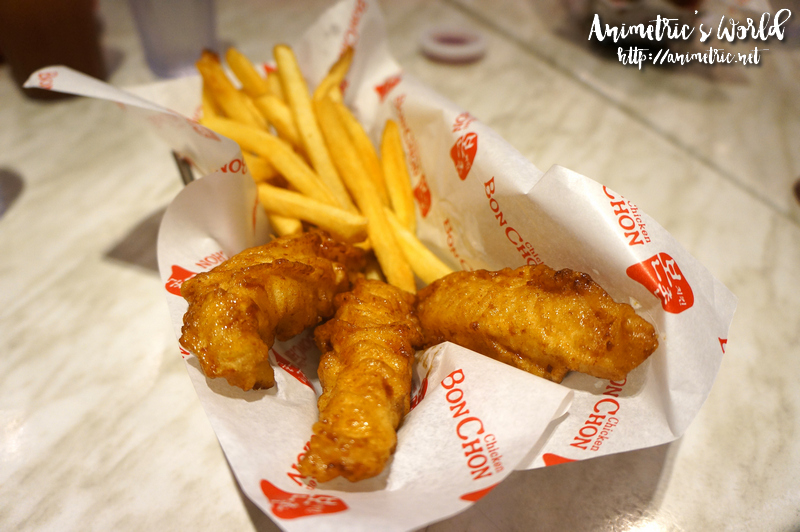 True enough, we were served Fish & Chips (P125). Cream dory fillet cooked the way you want it — with soy garlic or hot and spicy glaze. Like the chicken, it's crispy outside and tender inside. 😀
Then we had Crispy Squid Rice (P125). The trademark crunch of Bonchon Chicken now applies to squid rings. We had it in soy garlic and it's soooo good that it's addictive.
Did you know that Bonchon Chicken serves salads too? There's zesty and creamy Caesar Salad (P125).
Personally though I prefer the lighter Ginger Tofu Salad (P125), garnished with crisp wanton strips, fried tofu cubes, and served with vinaigrette dressing.
Chapchae (P75), chewy Korean noodles with veggies, pork pieces, sesame seeds, and egg on top is one of my favorite menu items at Bonchon. It's tasty and affordable, filling enough as a meal in itself.
Bulgogi Rice (P125) is something Bonchon has always had that I'm not really a fan of. I gave it a chance again, the verdict remains the same… the sweet beef pieces doesn't really taste like Bulgogi for me. XD
Even if we were there to sample other food items aside from chicken, of course we couldn't not have chicken! We had free-flowing wings. A 12-pc order like the one above costs P365. Again, we opted for soy garlic. I really love Bonchon's trademark crunch. It's the best.
So how do you properly eat Bonchon Chicken wings? I'll let Scott Tan, the man who brought Bonchon Chicken to the Philippines, show you how it's done in one fell swoop! 😀
No meal is complete without dessert and Bonchon Chicken introduced KoYo (Korean Yogurt). At P75 a cup, you get a full cup of deliciously creamy and tart yogurt complete with toppings. I opted for Banoffee Pie which had sliced bananas, graham crumble, and caramel drizzle. There's Blueberry Torte too, but I thought the sweetness of ripe bananas would present a better flavor contrast.
So how do I Bonchon? I normally prefer Chops so I don't have to contend with bones and I order them half and half (equal number of pieces of soy garlic + hot and spicy). I also love their Kimchi Coleslaw.
Log on to http://www.bonchon.com.ph/ for a complete list of branches and menu items.
Like this post? Subscribe to this blog by clicking HERE.
Let's stay connected: