One of the first major beauty events I attended this year was the Bobbi Brown House of Foundation event held in Rockwell. It was where I discovered the Bobbi Brown Extra Bright Powder Foundation.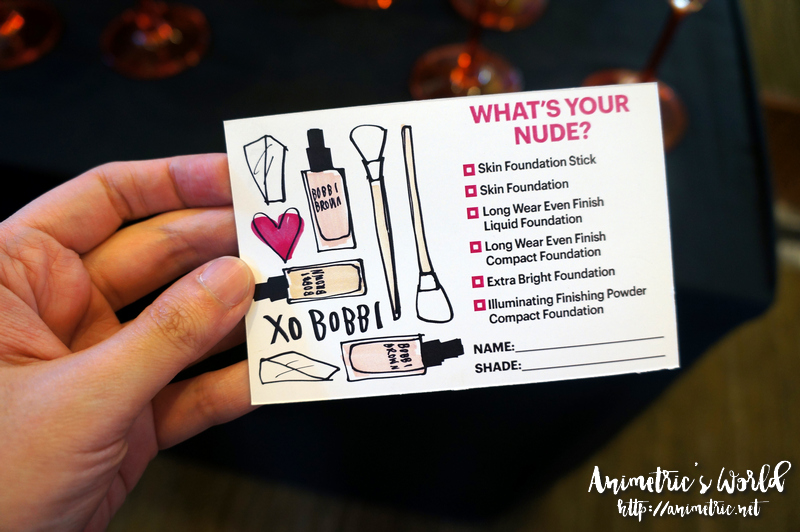 One of my makeup essentials is either a BB, CC, or a foundation and so I was really excited about this particular event. A flawless-looking face is always my priority. I can actually live without eye shadow and blush, just give me a good base product for my face. Upon my arrival, I was given a card wherein I could indicate which foundation I wanted in what shade.
I took a look at everything.
I also watched Bobbi Brown's international makeup artist Felix Nguyen demonstrate all of the foundation types that are available in Bobbi Brown's line-up. He showed us how to apply liquid, cream, and powder foundation.
Everything was perfectly matched with the model's skin tone every single time! See how her face and her neck are exactly the same color? Wow, now that's our peg. That's how I want my foundation to look — like it isn't even there!
Felix made up a total of five models, using a different foundation variant for each one.
Felix always starts with skin care when it come to makeup application, by that I mean cleansing, toning, and moisturizing. Makeup adheres better to a clean, moisturized skin. I asked Felix what a good foundation would be for me given our country's hot and humid climate. He suggested the Bobbi Brown Extra Bright Powder Compact Foundation. I'm a cream girl because of BBs and CCs, plus I've had bad experiences with powder makeup in the past (looks cakey and makes my skin look old and dry) and so I kinda did a double take. In the end, I chose to follow Felix's expert advice… and I'm SOOOO glad I did!!!
I decided to go for the Bobbi Brown Extra Bright Powder Foundation SPF 25 PA++. I have way too many BBs, CCs, and liquid foundations lying around here at home and so I wanted a change. I used to be very much into powder (once upon a time I would buy only mineral makeup) because it seemed the easiest to apply but after some makeup lessons and a professional course, I realized that liquid and cream foundations are actually better when it comes to coverage and well, imbibing a natural look.
I was swatched at the event and the lady said Beige. I distinctly remember being Warm Sand the last time I was swatched by Bobbi Brown in a more intimate setting. I didn't argue, but discovered later on that my shade IS really Warm Sand so this is actually a tad dark for me.
The foundation comes with a sponge applicator.
It's really easy to apply. Swipe some powder on the puff then apply all over your face. Darn, Beige makes my face a tad darker than my neck. I'm not a fan of putting foundation on my neck, I actually think it's a no-no, so I always want my exact shade. But wow, I am so awed by the finish. Doesn't look like powder, right? I'm totally getting myself the right shade next time.
Oh I've played around with the Bobbi Brown Extra Bright Powder Foundation a lot. Here are photos taken after application and 8 hours after.
This is another photo taken 8 hours after initial application, still pretty okay I think.
This is a photo taken under natural light, in the car actually. Really loving the natural-looking non-powdery and non-cakey finish.
What I like about Bobbi Brown Extra Bright Powder Foundation:
It's super easy to apply. Just use the puff to distribute the powder evenly all over your face and you're good to go.
It gives a bright, natural-looking finish that doesn't look powdery or cakey.
There are a lot of shades to choose from so everyone can wear this, all nationalities — even African Americans.
Still looks nice several hours after application, just blot away the shine.
Feels light on the face, it's as if you don't have anything on.
It's got SPF 25 PA++ which is sufficient sun protection when I'm going about my regular daily routine.
It gives you medium to heavy coverage since it's buildable. Since what I got is a tad dark for me though I apply with a light hand lest I make my face too dark.
Downside? It's a bit pricey at over P2k, but foundation (or BB or CC) is so important to me because I'm all for looking flawless so I'm willing to spend for it.
The Bobbi Brown Extra Bright Powder Foundation costs P2,550 and is available at all Bobbi Brown counters (Rustans Makati, Rustans Shangri-la, Rustans Cebu, Essences at Power Plant Mall) and Bobbi Brown boutiques in SM Megamall and SM Mall of Asia.
Like this post? Subscribe to this blog by clicking HERE.
Let's stay connected: