My long awaited magazine feature is out at last!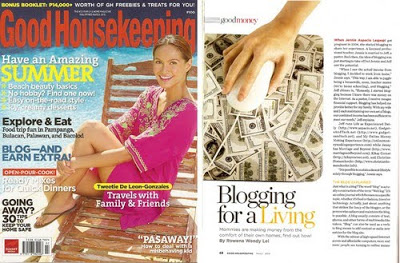 Three years after my first ever magazine article was published in Good Housekeeping Philippines, I'm finally back where I started with a feature entitled "Blogging for a Living". This is special not only because I've come full circle and I'm writing about something close to my heart, but also because it's GH Editor-in-Chief Jing Lejano's last issue. After four glorious years in GH, she is out there flying free and exploring the world outside her comfort zone. Not to worry though, you can get more of Jing at her blog http://hyper-mom.blogspot.com. I wish I could've worked with her longer though. 🙂
I'd like to thank fellow bloggers
Jeff and Jennie Aspacio
+
Earth Rullan
for entertaining my interview requests. I couldn't have come up with this feature without their insights.

Oh yeah, Good Housekeeping March 2010 comes with a bonus booklet full of coupons for thousands of pesos worth of discounts and freebies. That Blow-Up Babies coupon I scanned up there is just one of them. 😀
Watch out for another internet related feature in the April 2010 issue of GH and a summer issue of Working Mom! :p
Like this post? Subscribe to this blog by clicking
HERE
.