Honestly sometimes I don't know why I continue posting stuff like this. I wonder if it's really helping educate bloggers, both veterans and newbies, on how to conduct themselves in a respectable manner. I believe I'm just paying it forward to an industry which has been good to me and yes, I want to somehow help contribute to the betterment of the blogging community.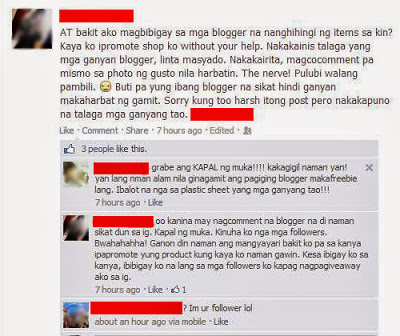 I got this screencap from fellow blogger Sam Lanuza, who saw it on her Facebook timeline. It's the status message of an online seller and I know for a fact that she isn't the only online seller who feels this way. Apparently, some bloggers have been asking her for items, probably promising to post about them. So? What's wrong with that? Sigh.
Online sellers are ordinary people trying to make a living out of buying and selling items. Let's say Online Seller A gets 5 tubes of Innisfree BB Cream from Korea which she bought for maybe P800 per piece. She will now try to re-sell online for maybe P1,000 a piece. If she gives you one, she will automatically not make money off her remaining Innisfree BB Cream stocks. Get it? This is not to say that asking for freebies is justified when dealing with big companies. It is not. It is never justified. How would you feel if some random stranger approaches you and tells you "Hey gimme some stuff!"?
If you want to review a product or service, unless the brand / PR / owner offers it to you, buy it yourself. Believe me, if they want you to do it they will get in touch with you. If you're not in their radar, it means you're invisible in their eyes. Instead of degrading yourself by asking for freebies, work on your blog and get it noticed. Everything's a business, so there aren't any real freebies. When they send you items they expect a return of investment by way of media mileage so you better have something solid to offer if you have the gall to ask or request for items and/or services. Promising to post about it is not enough if you don't have the statistics to back your offer.

In my case, everyone knows how crazy I am about Laneige products. FYI, I actually BUY most of the Laneige stuff I use on my face. Yes, Laneige Philippines sends me freebies once in a while but I can say that over 75% of the Laneige products I use and review have been bought by me.
You won't believe some of the stories I hear from brands, PRs, and business owners about how bloggers would e-mail, PM, and even text them (moochers are resourceful that way and they can research the hell out of brands) to ask for free items and event invites. You can't expect to be respected if you don't respect yourself so please think before you act. I'm a blogger too so I don't like it when bloggers are stereotyped as freeloaders, opportunists, and beggars. Most of the time, the bad apples pave the way for sweeping generalizations where bloggers are concerned so let's all do our part.

Like this post? Subscribe to this blog by clicking HERE.
Let's stay connected: