So I decided to make last Saturday errands day so my daughter and I could drop by the newly opened BLK 513 SM North EDSA. I've been seeing a lot of #DarkSkimFrozenYogurt and #DarkSkimDetox on my social networking feeds. BLK 513 makes dark-colored frozen yogurt. I really wanted to see for myself what the fuss was about.
BLK 513 SM North EDSA is located in the main building. It's right beside J.CO Donuts. This is actually where Tonymoly used to be (they moved to a bigger space).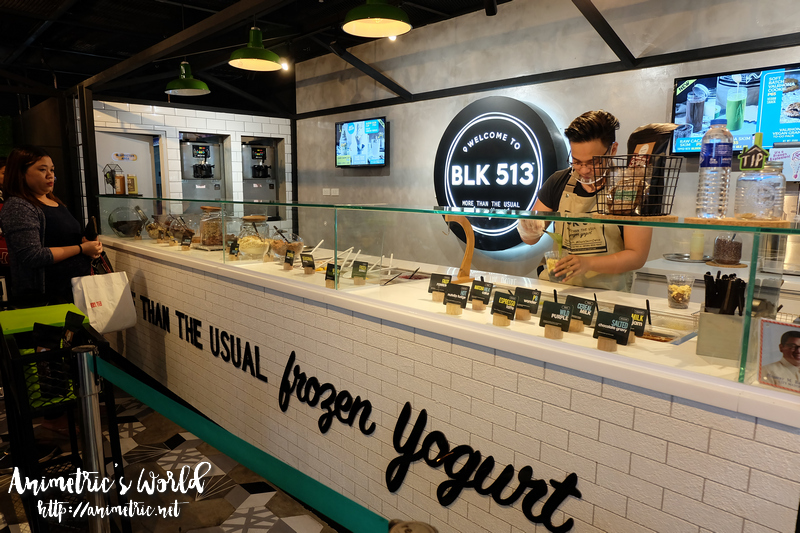 The store is quite small. There's a long counter where you can see everything related to your frozen yogurt order. You can watch while they assemble it too. The line can get long because people come in non-stop. There are a few stools along with a couple of tables and chairs — there isn't much space to hang out. BLK 513 is know for making the country's first activated charcoal-enhanced frozen yogurt. It's greek yogurt with activated charcoal — so it's a probiotic treat which can help the body eliminate toxins.
My daughter and I decided to each go for a Dark Skim Cup. A Dark Skim Cup costs P185 and an order consists of 1 Crunch + 2 Fruits + 1 Sauce to go with the activated charcoal-enhanced yogurt. There are a lot of "Crunch" options — Rainforest Crunch (fruits and nuts), Malt Sandwich, Caramelised Cookies, Oreo Pie…
…Ultimate Vegan Brownies, Valhrona Vegan Granola, Handmade Smores, Fool's Gold, etc. At this stage, it was already confusing. I kinda wanted to put in everything lol! In the end, my daughter and I settled for Handmade Smores.
Okay after choosing our "Crunch", we had to choose 2 fruits. We went for fresh bananas hanging on a rack (not shown here). A whole banana counts as 2 servings of fruit. Good news for us because we didn't fancy any of the other fruits lol.
Last but not least we had to choose a sauce. Waaah… all the sauces seemed so yummy I had a hard time deciding! There's Faux Ferrero, Matcha Milk Cake, Hot Nutella Fudge, PB Wonder, Cereal Milk, Espresso Latte, Milk Jam, Wild Purple, and Salted Chocolate Gravy.
Anyhow here's my daughter's Dark Skim Cup — Handmade Smores + Banana + Hot Nutella Fudge.
Here's my Dark Skim Cup — Handmade Smores + Banana + Matcha Milk Cake. My goodness, it's absolutely heavenly! BLK 513's yogurt isn't super tart, so it's great for those who are just easing into the whole froyo craze. The Crunch, Fruits, and Sauce balance the yogurt's taste and texture quite nicely too.
My daughter and I really enjoyed our Dark Skim Cups from BLK 513. We can't wait to go back and try another combination! They also have a Super Skim Cup which is comprised of regular frozen yogurt (the white kind). They have some unique bottled drinks too. Love that we can indulge in a mind-blowingly decadent dessert (or snack) that's lower in fat, sugar, and calories compared to other treats. Now if only they'd open a branch in Robinsons Magnolia so it's closer to us.
Like this post? Subscribe to this blog by clicking HERE.
Let's stay connected: