One Saturday night last October, hubby and I had dinner with our high school friends at the much-hyped up restaurant Blackbird at Nielson Tower in Makati. All four of us had gotten married back in 1999, just weeks apart (we even went to the US for our honeymoons together!) so they said this would be our advanced 15th anniversary dinner! (Our anniversary is actually isn't until next month but hey we wanted a reason to dine here!)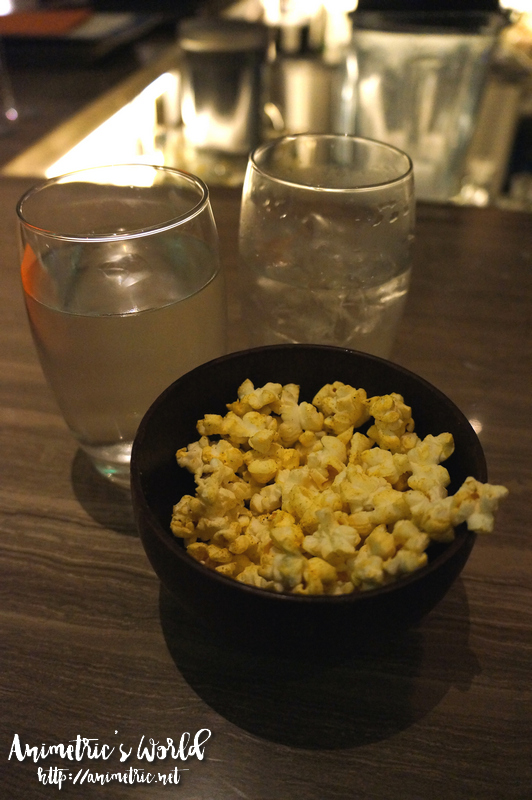 We had reservations at Blackbird for 8pm and we arrived on time. Still we were asked to wait at the bar area where we were given some cold water and complimentary seasoned popcorn. They said they needed time to prepare our table.
After maybe 10 minutes, we were asked to proceed to the second floor where a table for four was waiting for us.
I must say, Blackbird's reputation for miniscule servings and high prices is very much deserved. We ordered appetizers first, starting with these Crab Cakes, Green Apple, Radish, and Mustard Slaw (P560). Three whole pieces the size of meatballs, wow! Yes they were delicious and they used real crabmeat (not kani sticks) but wow, we had to split them into portions because there were 4 of us.
Then we had Prawn Scotch Eggs, Betel Leaves, and Coconut Chili Sambal (P280). Again, delicious but take note, these are QUAIL eggs so this dish takes the concept of tiny servings to an entirely new level.
We had a salad for sharing — Apple, Pecan, Cos Lettuce, and Green Goddess Dressing (P390). It's also topped with shaved parmesan cheese. This is good for one but we shared it because we wanted to taste many different dishes. I liked this salad a lot. Tangy, refreshing, light, and tasty!
Then we started ordering mains. First we had pasta — Portobello Mushroom, Asparagus, Fontina, Thyme, and Truffle Oil Lasagna (P560). Don't be fooled. what you're seeing is the top layer of cheese. The lasagna is a small square in the middle of it. It is however excellent pasta with a generous sprinkling of truffle oil (I could smell it as soon as the dish was laid out in front of us).
We also tried a pizza. We chose Buffalo Mozzarella, Tomato, and Oregano (P460). The pizza can fit onto a regular plate, the size is equivalent to maybe a double/regular serving at a regular pizza place. Good thing there were 8 slices so we all had 2 each. You can tell that it's freshly made from scratch because the crust is crisp yet chewy plus the sauce doesn't taste like canned tomato paste. Again, delicious!
Our priciest dish for the evening was this Dry Rubbed Wagyu Hanger Steak, Mustard Butter, and Fries (P980). Seriously, the serving is so small my 10-year old daughter can eat it all by herself. There were maybe 6-8 slices of steak, a few pieces of haricots verts, and fries you can count. We melted the mustard butter on top of the steak and as expected, it was very good. Even the beans were crisp and sweet.
Priciest dish of the evening #2 was the Branzino Fillet, Roast Fennel, Tomato, Potato, Lemon, and Rocket (P980). This is probably the dish I liked the least. It's fish, supposedly some type of sea bass (and you know how high restos charge for sea bass — Blackbird is no exception) but I found it so-so. I would've been pissed off if I was dining alone and I paid P1k just to eat this.
At last it was time for desserts and Blackbird did not disappoint. We had Sticky Date Pudding, Caramel Sauce, Vanilla Ice Cream (P360). Chewy and not overly sweet, it's really my kind of dessert and I know I can actually finish the entire thing. This is probably the best pudding I've had.
Then we had Burnt Butter and Vanilla Seed Ice Cream, Chocolate Brownie, Candied Popcorn, and Salted Caramel Sundae (P420). OMG. I'm not an ice cream person but this is divine. I don't think I've ever had a sundae this heavenly. It tastes like milk, butter, vanilla, popcorn, and salted caramel all at the same time. It's soooooo good. The ice cream is obviously made from scratch.
For our third dessert, we tried Cheesecake, Macadamia Praline, Banana Brulee, and Dulce De Leche (P390). This was the most forgettable one for me as it wasn't really anything special — ordinary cheesecake with bananas and caramel, bow.
Advanced Happy 15th Anniversary to the 4 of us!
Overall we had a really nice dinner at Blackbird. The food was very good albeit the portions were super small and the service was commendable. The bill was brought to our friend and he didn't really check it but after the bill was paid, the waiter came back and apologized, saying we had actually been erroneously charged. They corrected it and returned the slight overpayment. Not all establishments would bother to do this, I know. I find the prices crazy though considering how tiny the servings are. The ambiance is perfect for catching up with friends because it's very peaceful. Also, you can't just walk in because despite everything, this restaurant is ALWAYS full and you can't eat without a reservation (well you can but you will have to wait a long long time to get a table).
This is probably one of the most expensive dinners we've ever had and I don't think we'll be doing it again anytime soon. Have you tried dining at Blackbird?
Blackbird
Nielson Tower, Ayala Triangle,
Makati Ave., Makati City
828-4888
Like this post? Subscribe to this blog by clicking HERE.
Let's stay connected: