Three of us are celebrating our birthdays in October — me, hubby, and daughter. We usually just have a nice meal over the weekend so it's more relaxing. We'd celebrate mid-October so it's in the middle of all our birthdays. Not this time. My brother is getting married on Oct. 15 so we had to have our birthday meal last Sunday. We decided to have some Matsusaka Beef at Ogetsu Hime in SM Aura. They were having a promo and it's 50% off until October 15.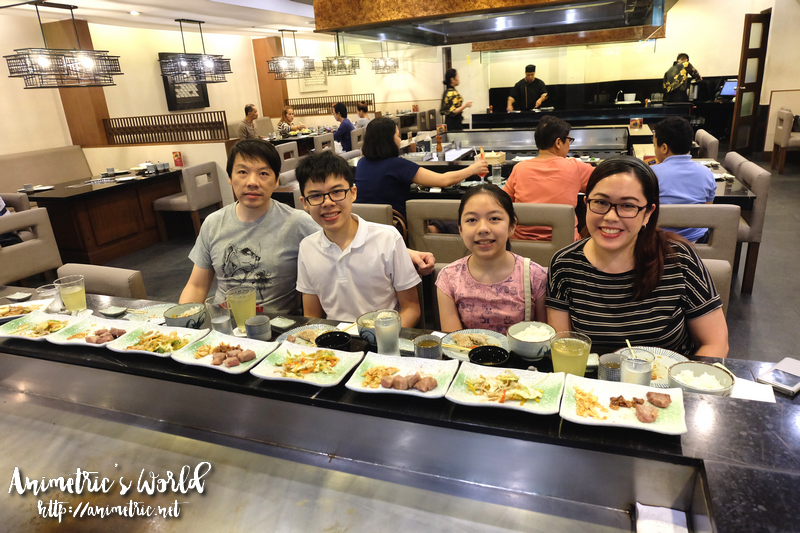 We reserved a teppanyaki table. It's either this or a side table like what you see on the left side of this photo.
We opted for 2 orders of the higher grade of Matsusaka Teppanyaki available — A5. It costs P2,805 for a small slab and that's already 50% off the original price of P5,610. Each slab comes with veggies and a bowl of miso soup. Lol so the meats and veggies you see above are already P5,610 since it's P2,805 x 2. I normally wouldn't go for this but just thought YOLO and it's a triple birthday anyway.
The cook assigned to our teppanyaki table made quite a show lighting up onion towers and chopping stuff.
He chopped the Matsusaka Beef into cubes and started cooking. Hubby told him he preferred the meat cooked at medium doneness.
Each of us got this much Matsusaka Beef and garlic chips.
We each got this much veggies.
There are 3 different sauces for dipping. My fave is the steak sauce on the rightmost compartment.
We also ordered some sushi too. This is the Goma Ebi Tempura Roll (P205). Ebi Tempura roll is coated with black sesame seeds and crispy tempura bits. It's seasoned with roasted sesame mayo and teriyaki sauce. The kids liked it!
Hubby ordered Shake Kawa Roll (P180) as well. I didn't want to because I don't really like fish skin and this consisted mainly of fried salmon skin. The roll is topped with torched mozzarella cheese and teriyaki glaze. They all liked the crispy salmon skin. I still found it fishy (malansa).
Since there was so little meat for P5+k, we had Tofu Steak (P190). I haven't had Tofu Steak in a long time because I usually find it oily and swimming in strong-tasting sauce. Ogetsu Hime's Tofu Steak is surprisingly clean-tasting and subtle in terms of flavor. The silken tofu is perfectly coated and fried too. I liked it a lot!
Their Gyoza (P160), the pork version anyway (they have shrimp) is surprisingly cheap. It's nicely pan-fried and not greasy.
We had steamed Japanese rice to go with everything we ordered. Perfect.
So here comes the million dollar question — are the two small slabs of Matsusaka Beef worth paying over P5k for? If you ask me, no. The beef is really fatty. It made me to feel queasy after I finished my portion. Plus did you see how small each slab is? One slab makes about a dozen cubes when sliced. Take note we already got them at 50% off. I can't imagine paying over P10k for those. The other things we ordered were pretty cheap at P100+ to P200+ though.
Eating Matsusaka Beef at Ogetsu Hime was an experience for us. The kids were happy they got to try this much hyped up meat. I guess it's kind of okay if you consider we didn't have to go to Japan to have some. I'm still interested in going back to Ogetsu Hime to see what else they have to offer.
Before this day is over, I'd like to thank everyone who greeted me a Happy Birthday… another year older and another year wiser (I hope)!
Ogetsu Hime
Sky Park, Level 5, SM Aura Premier,
Bonifacio Global City, Taguig City
519-9840 / 519-9740 / 0917-8096585
Like this post? Subscribe to this blog by clicking HERE.
Let's stay connected: