Some weeks ago, Biore sent over their entire makeup remover line. I'm highly appreciative of this because I go through makeup remover like water. Did you know that facial sunscreen can't be completely removed by just washing your face? So even if you don't use makeup, if you apply sunscreen, you need makeup remover.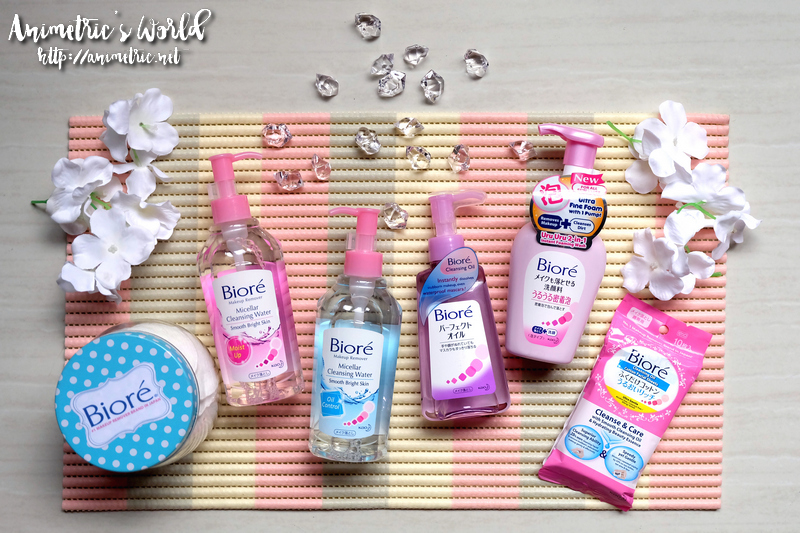 When I was growing up in the 80's, my first facial wash was Kao Biore. Then one day it wasn't available anymore. I'm so happy Biore is back! So this is the Biore Makeup Remover line. Let's go through the products one by one, shall we?
Micellar Water is very much the "in" thing these days when it comes to cleansing and makeup removal. There are 2 Biore Micellar Water variants:
Biore Moist Up Micellar Water (P460 for 300ml) – Gentle makeup remover for dry skin.
Biore Oil Control Micellar Water (P460 for 300ml) – Gentle makeup remover for oily skin
Both of these products are infused with mineral water from the Japanese alps. They cleanse the skin without leaving a sticky feeling. I have combination skin so I can actually use both. 🙂
Then there's Biore Cleansing Oil (P320 for 150ml). This is touted as the most gentle makeup remover in the Biore family. It's oil-based. It dissolves heavy and even waterproof makeup so you don't need to rub your skin excessively. But what I'm most curious about is the Biore Uru Uru 2-in-1 Instant Foaming Wash (P299 for 160ml). This facial wash removes light makeup AND sunscreen. No need for a separate remover if you're just wearing sunscreen!
This is Biore Cleansing Oil Cotton Facial Sheets (P99 for 10 sheets).
These cloths are soaked with Biore Cleansing Oil so you can remove all traces of makeup with it. Each sheet is made of 100% natural fiber so it feels soft on the skin.
Okay so at this point, I absolutely HATE all cleansing cloths. I've tried them all — Nivea, Burt's Bees, Tonymoly, Simple, Cetaphil… you name it. Every single one was abrasive, leaving my skin angry and red. I had come home from a shoot so I had super thick makeup on (which I hated). I thought it was the perfect time to try Biore Cleansing Oil Cotton Facial Sheets.
OMG I really hate this MUA's work. Here's hoping I never find myself in her makeup chair again. I look like I have a black eye.
So anyway I get one sheet and sort of hold it over my eye area for a couple of minutes. It's like I'm soaking my eye area.
Here's what one soaking session removed. I did it again, this time my eyebrows included.
Whoa. My eye area was totally stripped of makeup. The best part was, the cloth felt so soft against my skin. It was totally unlike all the other facial wipes I had tried in the past.
So yeah, I used the wipes to remove makeup from my entire face.
What I like about Biore Cleansing Oil Cotton Facial Sheets:
OMG, softest makeup remover wipes I've ever tried! Feels so nice, not abrasive at all.
Removes even hardcore waterproof eye makeup including mascara.
No redness anywhere on my face after using it.
Very convenient for travel. You can take it anywhere! I personally try to avoid bringing heavy bottles when I travel so this is perfect.
Price is reasonable at P99 for 10 sheets.
Downside? If you're removing a lot of make up you may need 2-3 sheets. The bottled removers are still more economical if this is the case. I've tried a lot of makeup remover wipes but this is the only one I actually liked.
Biore Cleansing Oil Cotton Facial Sheets and other Biore Makeup Removers are available at leading department stores and drugstores nationwide. You can also purchase online at BeautyMnl.
Like this post? Subscribe to this blog by clicking HERE.
Let's stay connected: