Mango Grill is a rather popular casual dining restaurant in Sorsogon. They're known for their Cassava Cake. Now I've never been to Sorsogon. So I was surprised when I got a Big Cheese Cassava Cake from Mango Grill Manila. I guess they're opening in Manila? Or at the very least, making their famouse Big Cheese Cassava Cake available to us Manilenos. It's an original homegrown recipe from Bicol since 1994. Ingredients are sourced from Sorsogon too.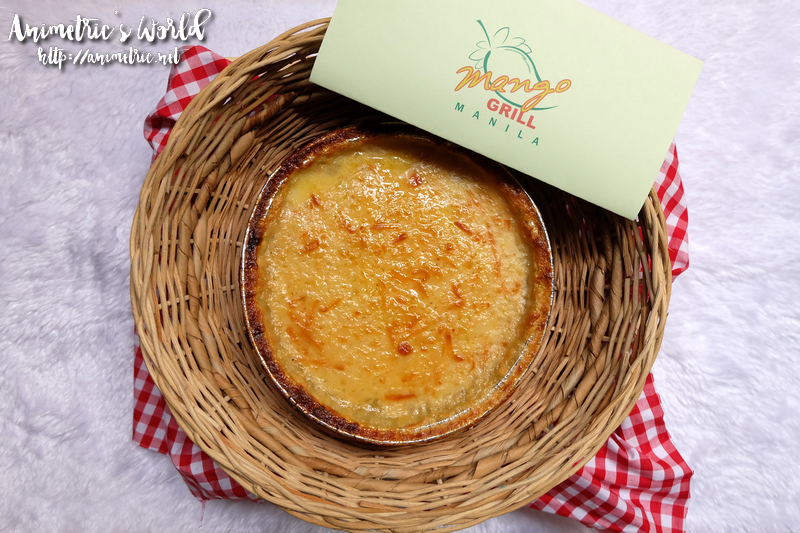 My Big Cheese Cassava Cake was delivered via LalaMove today. It was still hot when it arrived. Wow, talk about freshly made! I got a whiff of its cheesy goodness as soon as I opened the box.
It's baked in a circular foil pan. I was told it's best eaten hot. The recommended way of reheating is to remove the portion you're eating from the foil pan and then heating in the microwave oven until the cheese is melted. That's about a minute in our microwave oven. The instructions say 3-5 mins but if I did that here I'd probably burn the thing. Let's just say heating time depends on how powerful your microwave oven is.
I sliced the Big Cheese Cassava Cake and was surprised at how soft it was. It's soft, chewy, and not overly sweet. Kind of milky and cheesy at the same time too. This would go so well with a cup of hot tea or coffee. Looking forward to having another slice for breakfast tomorrow, lol. You can store this in the refrigerator for about 3 days. If uneaten, you can store in the freezer for 3-4 weeks max.
Mango Grill Manila's Big Cheese Cassava Cake costs P380 per box. You can order by texting 0995-0128158. They do same day deliveries via LalaMove. For more information, check out @mangogrillmanila on Instagram.
Like this post? Subscribe to this blog by clicking HERE.
Let's stay connected: