Hong Kong is always a popular destination for us Filipinos. It's less than 2 hours by plane plus we don't need a visa to go there. Whenever there are seat sales you can go to and from Hong Kong for under P5k. Most times it's even cheaper than the plane fare going to Palawan or Boracay. Anyway last June, Cathay Pacific had seat sale and my mother-in-law suggested we all go to Hong Kong for a short vacation. After we booked our tickets, the next thing to do was find accommodations. There were 10 of us going so hubby made it his mission in life to find a cheap hotel.
He browsed through Agoda and found Best Western Harbour View. They had a Super Sale Promo so a Superior Mountain View Room for two cost only P1,800 a night. The average rate for this hotel is about US$80 per night. The promo rate was so incredibly low he booked it without looking through the reviews. So Best Western Harbour View it was for 4 nights.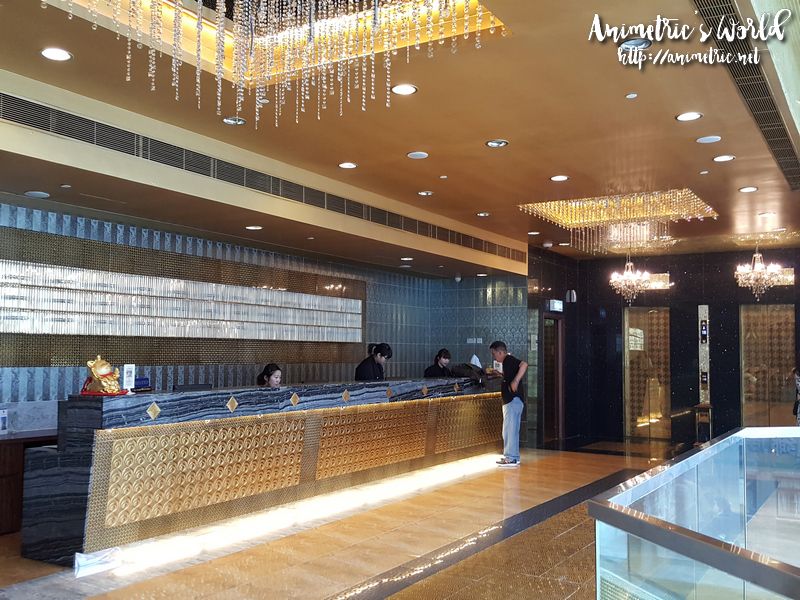 The free airport shuttle dropped us off Best Western Harbour View. We squeezed inside the tiny elevator which had intermittent air-conditioning. Most of the time, the elevator aircon was off so by the time you reached your floor or the lobby, you'd be all hot and sweaty. This gaudy reception area was where we checked in. Decorated in exceptionally flashy gold and crystal trimmings, everything about the lobby screamed cheap. At least the air-conditioning here was cold.
Finally we were able to proceed to our Superior Mountain View Room on the 28th floor. The corridor was dark and narrow, I forgot to snap a photo sorry. Anyway this was what greeted me when I opened the door. The bathroom is so tiny the sink can't fit inside. Since I'm already talking about this part of the room, let me just say that the hair dryer is almost useless.
Welcome to the bathroom. I promise you, a 200-lb person would not be able to use the toilet. I'm far from 200 lbs and I had a hard time determining where to place my legs. There is very little space in between the toilet and the bath tub. The bath tub doesn't seem safe for elderly people too. It's kind of high so I can't imagine my 80-year old grandma climbing in and out of it. Some of the towels had small telltale stains which I found gross.
Don't let the glamorized room photos on their website fool you. This is the Superior Mountain View Room in its entirety with ALL the lights on. My daughter immediately complained that the room is creepy. The tacky chandelier provides next to zero illumination. This room is much darker than it looks in this photo because my Fujifilm XA-2 makes dark environments like this brighter. The beds are HARD. This is the most uncomfortable bed I've ever slept on. It feels a lot like sleeping on a wooden plank. I would wake up with aches all over.
This wall in front of our bed was where the small flatscreen TV was mounted. Our room had no closet, just hooks and hangers on this wall.
This is the mountain view from the window of our room.
What I like about Best Western Harbour View:
There's a free airport shuttle which drops you off right in front of this hotel.
The Super Sale Promo rate was dirt cheap.
The location is pretty good. There are a lot of restaurants and convenience stores nearby. The subway station is practically next door too.
Downside? Please see everything I've said above lol. Before you tell me what do you expect for P1,800 a night, let me just say that the NORMAL rate for the room we got (like, head on over to Agoda now and check… because I did before posting) is US$80-90+ so that's what… P4k??? I would raise a hellstorm if we actually paid US$90+ a night for this. But since we didn't, I'd say we got what we paid for.
Best Western Harbour View
239 Queen's Rd W, Hong Kong
+(852)2599-9888
http://www.bestwesternhotelharbourview.com/en/
Like this post? Subscribe to this blog by clicking HERE.
Let's stay connected: