A lot of people I know take Berocca regularly. I do too! Whenever I feel that I need an extra boost, I take Berocca. I love the orange softdrink feels honestly… fizzy but not overly sweet and it's sooo good when icy cold. Berocca is more than just a shot of Vitamin C. It also has B Vitamins, Calcium, Magnesium, and Zinc. A glass can not only boost your resistance, it can improve concentration and memory plus decrease fatigue too.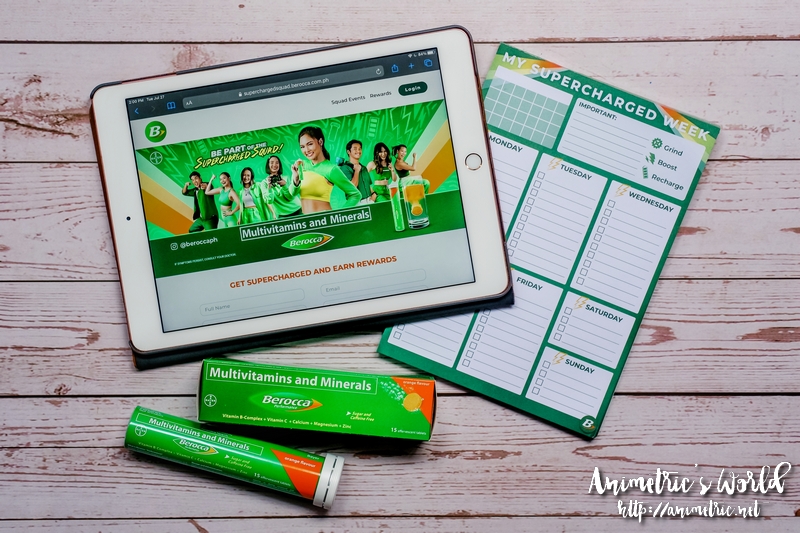 This year, Berocca is calling on everyone to join the Berocca Supercharged Squad to rediscover life with positive energy. Leading the pack of brand ambassadors is the vivacious actress Kim Chiu. Kim and company are inviting everyone to sign up for a series of free holistic community classes to recharge the mind and body. There are pottery sessions, workout classes (yoga, boxing, HIIT, etc.), inspirational podcasts, and more. We're going to be under EQC for most of August so now's a good time as any to register. At least you'll have something to do aside from your usual chores at home.
Active squad members get rewarded badges for activities they participate in. Earn at least 6 badges and get a free Berocca 10s. Got 10 badges? You get to take home a premium item. Most of the squad events will take place in August so sign up at https://superchargedsquad.berocca.com.ph/ today!
You can purchase Berocca at the official Bayer store on Shopee. I know it's kind of hard to find in drugstores since they're always running out of stock. At least we have an online option now and we can avail of Shopee's many free shipping vouchers so we won't need to go out.
Like this post? Subscribe to this blog by clicking HERE.
Let's stay connected: