Did you know that Ben's Cookies started out as a small shop at the Oxford Covered Market in England 36 years ago? It was created by chocolate cookbook author Helge Rubenstein, named after her son Ben. Their philosophy is simple: Make the perfect cookie every single time. And that's exactly what they've been doing until now. Anyway, Ben's Cookies opened its first store here in the Philippines last Tuesday.
Located at the ground floor of The Podium in Ortigas, Ben's Cookies had a blockbuster line from the get-go. I was there at 11am, the time they opened for the day. I had to stand in line already even if it was still early!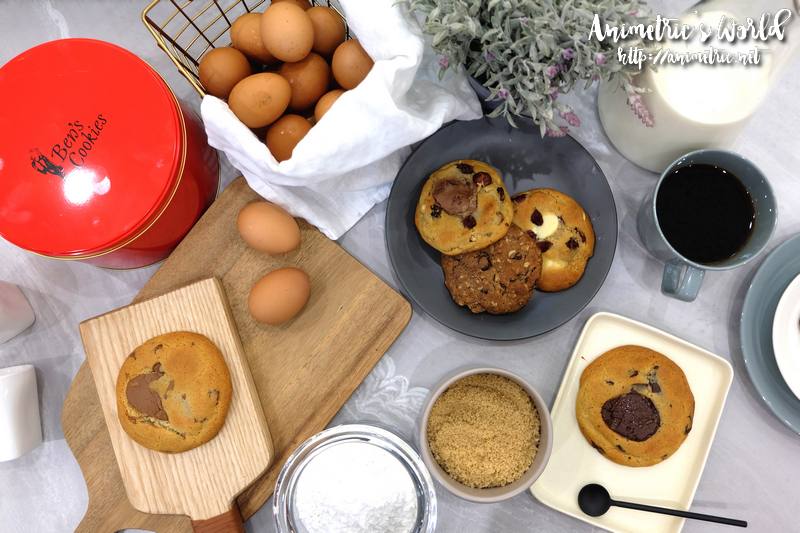 Ben's Cookies have 14 flavors ranging from fruity to nutty to chocolatey. They don't skimp on the ingredients too.
Ben's Cookies is known for their trademark chocolate chunks… not chocolate chips. Their cookies are deliciously chewy and not overly sweet. And the chocolate chunks? Wow, just wow.
There's a lot of variety when it comes to flavors. They have Lemon, Oatmeal & Raisin, Orange & Milk Chocolate, Fruit Nuts & Milk Chocolate, Cranberry & White Chocolate, Double Chocolate & Nuts, Peanut & Milk Chocolate, Triple Chocolate Chunk, Praline & Milk Chocolate… and so forth.
My favorites? Anything with Milk Chocolate in it! Orange & Milk Chocolate is a pretty unique combination that my son and I enjoyed. My daughter thought the orange was overwhelming so her vote goes to Double Chocolate & Nuts. Oatmeal & Raisin actually tastes like apples and cinnamon while Lemon is like a moist and chewy butter cookie with lemon rind.
Ben's Cookies cost P90 a piece but they have promos like buy 5, take 2 free or buy 10, take 5 free — bringing down the price per cookie to P60. It's actually quite reasonable (cheap even if you buy 15 pcs) because cookies from other places easily cost over P100.
For more information, visit https://benscookies.ph/. They have only one store at the moment but I'm expecting more to pop up soon. 🙂
Like this post? Subscribe to this blog by clicking HERE.
Let's stay connected: