For today I'm sharing my experience with Benefit They're Real Mascara. I've used a lot of different kinds of mascara in the past. In fact I remember playing with my aunt's mascara when I was a little girl. It was sticky, clumpy, and difficult to apply. That said, I'm simply amazed at how far mascara technology has come.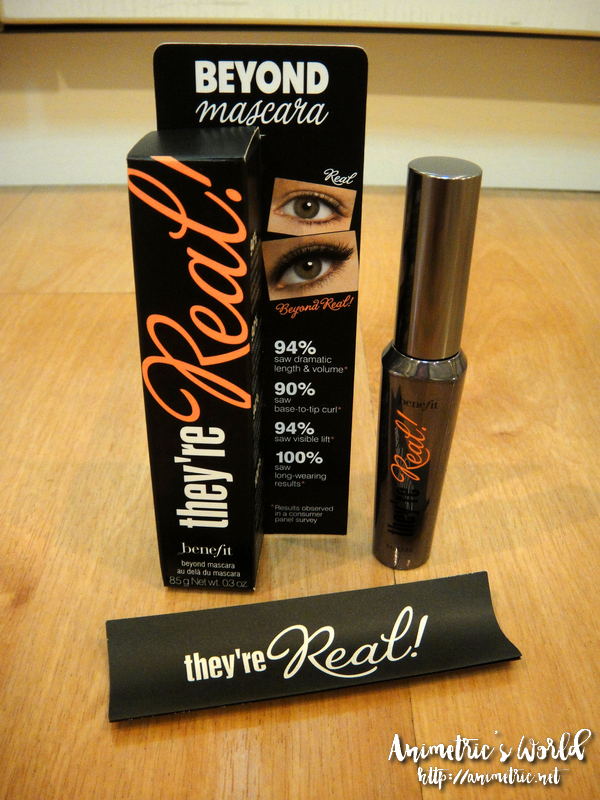 Anyhow, the latest in the roster of mascara brands I've tried is Benefit They're Real Mascara (P1,200).
The gunmetal tube is fatter than the usual mascara tube. It gave me the impression that it contains a lot more product.
The mascara wand's brush tip is comprised of a gazillion tiny rubber spikes.
Without further ado, let me show you how this mascara works. These are my eyelashes without mascara.
According to the instructions, you're supposed to position the wand horizontally and wiggle from side to side, base to tip, to achieve maximum volume, length, and lift. Notice how much longer, thicker, and darker my lashes have become after application.
I curled my lashes in the before photo but did not apply mascara. I applied Benefit They're Real Mascara in the after photo. My lashes got even more of a lift.
If you want your lashes to be more visible, you can apply a thicker coat.
What I like about Benefit They're Real Mascara:
It's incredibly lightweight. I was so surprised how it felt as if it wasn't there! You easily forget you have any mascara on.
It's not sticky or clumpy.
It comes in Jet Black, so your lashes will definitely be dark and dramatic.
It's easy enough to apply and it gives lashes an instant lift.
It stays on until you remove it.
Downside? It's very difficult to remove. I was practically soaking my eyelashes in cleansing oil and it wasn't enough to completely remove everything. I have to take a separate eye make-up remover and use a cotton pad over the area afterwards then wash off with a cleanser. It definitely takes time to clean up.
Some application tips:
Curl your lashes prior to application. It's never a good idea to curl after applying mascara as you might end up pulling off your lashes.
If you're applying to the top and bottom lashes, do the top first and wait for it to dry before doing the bottom.
Don't blink because the product will smudge when not yet completely dry.
Make sure you screw on the cap securely after use so the product doesn't dry up.
Benefit They're Real Mascara is available for P1,200 at Benefit boutiques in Greenbelt 5 and Trinoma as well as the Benefit counter at Rustan's Depaertment Store in Shangri-la Mall.
Like this post? Subscribe to this blog by clicking HERE.
Let's stay connected: