If you're a regular reader of my blog, you'd know that I have a preference for Korean and Japanese cosmetic products. Now that's not to say I'm not open to western brands. I am. I just love all things beauty! But every once in a while, a product so wonderful comes along I just feel the need to share it ASAP.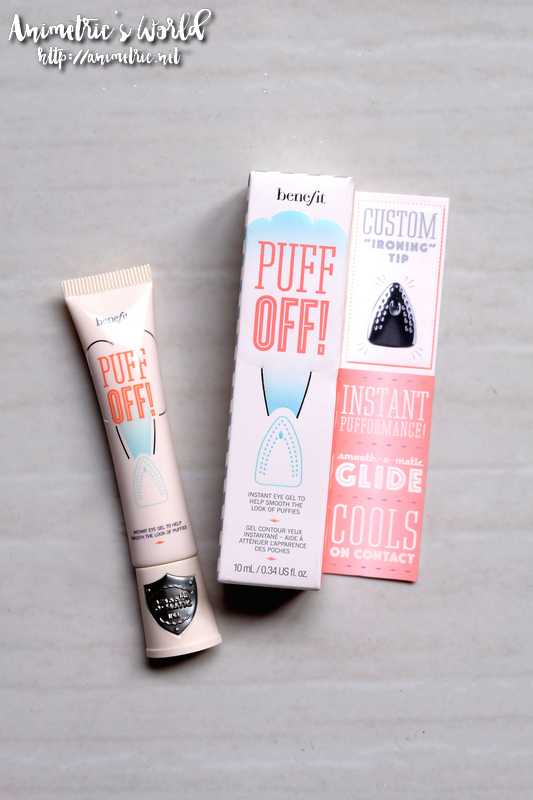 It's been a while since I've done a beauty review. I got sick (down with the flu) for a couple of weeks. When I'm sick I don't like applying makeup. I end up throwing out whatever I use afterwards for fear that they've become disease carrying implements. So anyway, for today I'm reviewing Benefit Puff Off, a product I was very skeptical about. Twinnie Marj Sia gave this to me. She told me it's really really good. I was like hmmm? Okay.
Benefit Puff Off is an eye gel which instantly smoothens the undereye area. I love the creatively designed packaging. There's this police badge-like thingy on the cap that makes it pretty unique.
The tube is equipped with a tip that looks like a flat iron. You know, the type you use to press clothes.
What you do is press the tube to dispense the product and apply it to your undereye area in an ironing motion. It's literally ironing puffiness and fine lines away before you apply your makeup.
This is what the gel looks like. It has a cooling effect which you feel on contact. You use the Benefit Puff Off flat iron tip to smooth the gel on areas that need it.
So anyway, I used Benefit Puff Off prior to applying makeup. While it doesn't lighten dark circles, it does fix puffiness and fine lines. It also brightens up the eye area a bit. I had a much easier time applying concealer and BB cream afterwards. I've actually tried taking my photo after makeup application without using Benefit Puff Off and my eyes look older and more tired.
What I like about Benefit Puff Off:
The cooling effect is a winner! The iron tip and the gel feel so nice when used on the undereye area.
There really is a brightening, de-puffing, and fine line-filling effect so makeup goes on so much easier.
You look better in photos when you use this.
A little product goes a long way. You just need to use a dot under each undereye area.
It's lightweight, non-sticky, and non-greasy.
Continuous use results in improvements where your undereye area is concerned. Fine lines are diminished and there's markedly less puffiness.
Downside? It's a bit pricey at P1,500 per tube but for me it's worth it. It's like day cream and primer for the undereye area!
Benefit Puff Off is available at Benefit boutiques and counters in Greenbelt 5, TriNoma, SM Mall of Asia, SM Megamall, Alabang Town Center, Rustan's Makati, Rustan's Shangrila & SM Seaside Cebu at P1,500 per tube. Don't want to go out? You can also purchase Benefit products at Sephora.ph.
Like this post? Subscribe to this blog by clicking HERE.
Let's stay connected: