I never know what to expect from BDJ Box. Every month is truly a surprise and this March is no exception — it's a Benefit BDJ Box! I came home to a pretty box with a "Secrets of Spy Gal" cover. I think my heart skipped a beat, lol. After last month's wonderful, I was ready for more!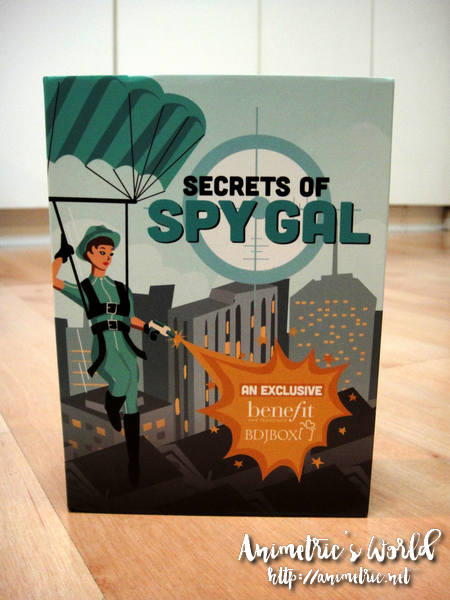 For March 2014, BDJ Box subscribers will be receiving the exclusive Benefit BDJ Box. I so love the customized box cover.
I just HAD to unbox the Benefit BDJ Box right away.
Tadaa!
And here they are, goodies from Benefit! I must admit I was kind of disappointed when I didn't see any full-sized samples. BDJ Box has really been spoiling me the past few months so I was surprised by this month's offerings. I've come to expect a certain standard, but hey let's not write it off just yet.
You get a 5ml bottle of Hello Flawless Oxygen Wow Brightening Makeup in Ivory. The full-sized bottle is 30ml (see above left, I actually have one) and costs P1,900. So this is worth P316. It's liquid foundation.
I'm guessing I can use this maybe 3-5x? I'm not heavy-handed when it comes to foundation. That said, I have a feeling my 300ml bottle is going to last forever, lol. Of course if you need heavier coverage 5ml may be enough for just a single use.
Then you get two sachets(?) of Stay Flawless 15-Hour Primer. Like the foundation, a full-sized tube costs P1,900. I'm not sure precisely how much product these two packets contain but suffice to say I'd say they may be worth about the same as the foundation sample.
Then there's a fragrance sample, Under My Spell Noelle. The small spritzer is filled halfway, so it may be good for two uses. The full-sized 30ml bottle costs P2,000. I don't really like it, it smells old and matronly. Then there's a single-use sample of The Porefessional Agent Zero Shine powder. I've been wanting to try this product, now at least I can… once. Sometimes one use isn't enough to gauge if it's worth purchasing so I don't know. The full-sized 7g version costs P1,600.
Last but not the least, we have sample tubes of The Porefessional and Stay Don't Stray.
I have the full-sized 22ml tube (which costs P1,600. The sample is 3ml, so it's worth about P218.
You also get a 2.5ml tube of Stay Don't Stray Eye Primer. A full-sized 22ml tube costs P1,400 so this is worth P159.
I have to be honest. This box doesn't quite measure up to past BDJ Boxes. I must admit though that I had high expectations. While I like the brand (Benefit) and I find the selection of samples very interesting (in fact I already used up The Porefessional Agent Zero Shine the same day I got it), it was kind of a letdown to open a box full of sachets and tiny tubes. With things the way they are, the total value of the box's contents may be worth about P1k, unfortunately they don't look it. Not bad, but you can get the same effect by going to a Benefit counter and trying out their testers since most of these are for designed for one use only. Sorry! I'm still looking forward to future BDJ Boxes though.
To subscribe to BDJ Box, log on to http://bdjbox.com/.
Like this post? Subscribe to this blog by clicking HERE.
Let's stay connected: