I'm always excited when Belo comes up with something new. My hubby, teenage son, and I all use Belo AcnePro to address our pimple problems. I personally use Belo SunExpert Sunblock SPF40 PA+++ Face during my daily drive to and from the house, school, and office when I want a matte look without having to wear makeup. Yes, Belo products are very much a part of our daily life.
Belo has something new for us once again — the Belo Kojic Intensive Whitening line for the face and body!
Belo Intensive Whitening line with Kojic Acid and Tranexamic Acid
The Belo Kojic Intensive Whitening product line formulated with Kojic Acid and Tranexamic Acid. Kojic Acid is an organic compound which inhibits the production of melanin (the pigment which makes skin and hair dark) while Tranexamic Acid is a peptide ideal for lightening stubborn dark spots. My husband's dermatologist actually told him to use products with Kojic Acid to lighten sun-damaged areas of his face which are marked with dark spots.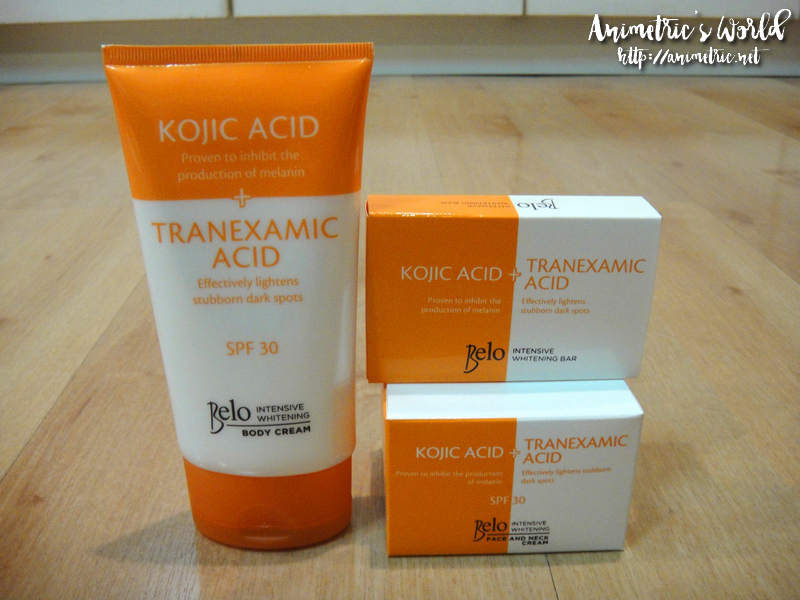 There are three (3) products in the Belo Kojic Intensive Whitening line:
Belo Kojic Intensive Whitening Bar 65g (P59.75)
Belo Kojic Intensive Whitening Face & Neck Cream SPF 30 50g (P249.75)
Belo Kojic Intensive Whitening Body Cream SPF 30 150ml (P199.75)
I've been using all these products for the past week.
First we have the Belo Kojic Intensive Whitening Bar 65g (P59.75). It's colored bright orange and it comes in just one size.
It's sealed for hygienic purposes.
I love its mild scent.
I noticed that the suds are orange-tinged. Some of my friends who've tried this warned me of a slight stinging sensation which is normal for products with Kojic Acid. I didn't feel it when I used it on my body. My face however, is a different story. I tried this on my face and I felt the slight stinging sensation I had heard about. Nothing drastic, just a light tingling that's nowhere near uncomfortable. This bar had a drying effect on my face which I countered easily with a moisturizer. Those with oily skin will find the grease-fighting effect a bonus. This actually isn't the first time I've used this bar as it has been available since last year. I use it after outdoor activities (like swimming and going to the beach) to help me go back to my original skin color faster.
Now this is something entirely new, Belo Intensive Whitening Face and Neck Cream SPF 30 (P249.75). It even comes with a quote card which says "Taking care of yourself is the most powerful way to begin taking care of others — Bryant McGill".
A spatula is included inside the jar. I love how the spatula can be stored inside the jar. My problem with spatulas is always storage. I hate leaving them out on my dresser because they can get dusty or dirty when left out in the open.
The cream is white and thick. Like the Belo Intensive Whitening Bar, it's also mildly scented.
I use the spatula to scoop out the product as not to contaminate what's left inside the jar.
The cream spreads easily onto the skin and is not as thick as it looks when inside the jar.
I apply it all over my face every morning before going out. I usually don't wear makeup when I'm just going to the office.
It dries to a nice non-greasy natural-looking finish after application. My skin looked instantly brighter and felt nice, soft, and smooth throughout the day. I've been using it everyday.
Meanwhile, I've been using the Belo Intensive Whitening Body Cream SPF 30 (P199.75) as my daily sunscreen ever since I got it.
It's thick and creamy in terms of consistency.
It's easily absorbed by the skin so there's no greasy feeling after application. I can feel the moisturizing effect throughout the day which is great.
What I like about the Belo Kojic Intensive Whitening products:
There is an immediate brightening effect — I'm quite positive that there will be more obvious results with continued use because as early as now I can already see brighter-looking skin.
I didn't break out or have any adverse skin reactions.
Everything is affordable. You can buy the entire line for ₱500+.
The creams double as sunscreen since they have SPF 30.
All the products have a similar mild scent which I find delightfully unobtrusive. I don't like using heavily perfumed products so it's all good.
I've gotten compliments for looking more fair-skinned than usual, no joke!
Downside? None really. As I've mentioned earlier, I've been using all the above products for a week now and so far I'm very happy with the results.
You can purchase Belo products at the Belo Flagship Store on Lazada.
Like this post? Subscribe to this blog by clicking HERE.
Let's stay connected: