Got a package from Sample Room containing two exciting new products: Belo Intensive Whitening BB Cream and Belo Intensive Whitening Soap.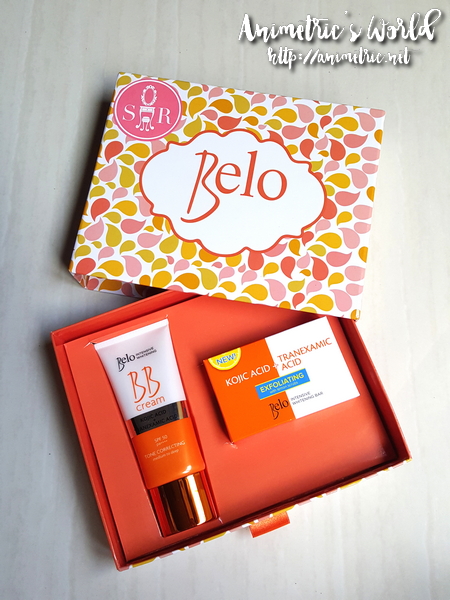 I've tried the original version of the Belo Intensive Whitening Bar and I can vouch for its effectiveness in evening out my skin tone. It's able to lighten darker areas so that my skin wouldn't look multi-shaded. The new Belo Intensive Whitening Bar is an exfoliating variant with lemon scrubs so aside from lightening, it can actually slough away dead skin cells for skin that's brighter and more radiant.
Anyhow, today I'm reviewing the Belo Intensive Whitening BB Cream SPF 50 PA+++ (₱349.75). This is my 32nd BB Cream review and it's a local homegrown brand at that.
But it's surprisingly not dark! I noticed the lightweight and water-like texture right away.
When I spread it onto my skin I confirmed that it's not dark at all, not even medium lol.
I wasted no time in applying it all over my face. I like how lightweight it is. It dries to a natural matte finish. I like it.
I'm surprised I can use Belo Intensive Whitening BB Cream without having to do my eyebrows, put on eyeliner, and what not. I will need concealer though because it can't quite cover my dark undereye circles (I've been super sleep-deprived these past few days). It did a good job concealing some minor facial redness though. Other BB Creams end up overpowering my features so I really have to define my eyes and lips at least.
This is how it looks under natural light. I like how it infuses my pale skin with just a bit of healthy-looking color. I'm impressed that for a high-SPF product, there's no white cast.
What I like about Belo Intensive Whitening BB Cream:
I love its lightweight and water-like texture. It's pretty easy to spread all over your face.
It's non-sticky and non-greasy.
It dries to a natural-looking matte finish.
The shade is perfect for me!
It's got SPF 50 PA+++ so it gives optimal sun protection.
My skin still feels like skin after application.
I can use it alone, no need for other makeup products (well except maybe concealer).
It's formulated with Kojic Acid and Tranexamic Acid so with extended use, it can improve skin clarity and reduce the appearance of stubborn dark spots.
Downside? I'm not a fan of the scent, thank goodness it fades fast. Also, the coverage is on the light side so you may need concealer if you have blemishes or really dark spots you need to hide. I would probably use this as a daily facial sunscreen since it has a lot of other benefits aside from the SPF 50.
Belo Intensive Whitening BB Cream is available in all leading department stores, supermarkets, and drugstores nationwide for ₱349.75 per tube. You can also purchase Belo products at the Belo Flagship Store on Lazada.
Like this post? Subscribe to this blog by clicking HERE.
Let's stay connected: