I received this trial kit of the Belo Collagen Powder Drink for review some time ago. It's the current trend in beauty — taking collagen for supple, younger-looking skin. Since I just turned 40, I say bring it on!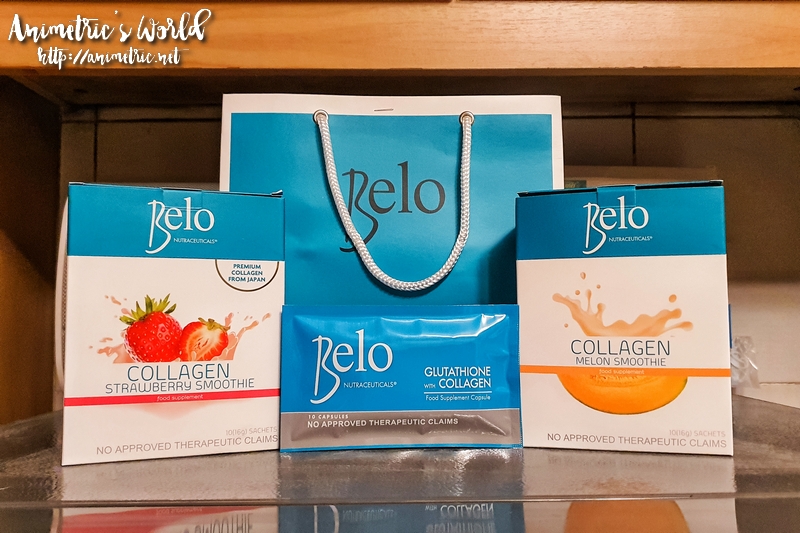 I'm not going to bore you with the technical details of this product but I will say this… collagen is responsible for the soft, supple, elastic skin you have when you're younger. Children's skin is a prime example of collagen-filled skin. As you get older, you lose collagen and so your skin becomes drier and less supple. Belo Collagen Powder Drink aims to address this problem from within, giving you that collagen boost — 5000mg of collagen in every sachet to be exact. Oh yeah, definitely something to be excited about. Since I am 40, it's recommended that I take 2 sachets daily preferably one in the morning and one in the evening.
Belo Collagen Powder Drink comes in the form of very fine white powder which smells like vanilla… sea vanilla if there is such a thing. There is something sea-like about the scent. One sachet is good for a single use. The fruit flavors smell like well, fruits.
The first time I drank the plain, unflavored variant, I added it to my 3-in-1 coffee. My coffee looked the same but the smell and taste were altered. It was a tad more bitter and there was this peculiar sea-like scent, no trace of vanilla. I tried it with a sweeter 3-in-1 coffee variant and it was still not good. Tolerable enough so I could finish my coffee but overall just bad… it got really bitter towards the end.
I read that Belo Collagen Powder Drink can be dissolved in hot or cold water so after my unsatisfactory results with coffee, I tried mixing it with cold water. The cold water became translucent and milky colored. Okay good news — vanilla scent, check. Taste? Surprisingly okay! Light, vanilla-ish, and yes it goes down easy. I finished my cup in less than 5 minutes and it felt nice.
What I like about Belo Collagen Powder Drink:
Mixed with cold water, it's really easy to drink. It's just like drinking well, vanilla-scented cold water.
I don't know if it's psychological but I feel refreshed afterwards.
It's got 5000mg of Collagen plus it's also infused with Hyaluronic Acid, both of which are said to have a host of anti-aging benefits.
Downside? The price! A box of 14 sachets (1 week supply in my case since my age requires 2 sachets a day) costs over ₱1000… they do go on sale often though and the usual price they're sold for is ₱699. If you're below 40, the cost is halved since you only need 1 sachet a day.
It's kind of difficult to tell if it's making me look younger because as is, people already have a hard time believing I'm 40 lol. With all the celebs (both local and international) going crazy about collagen though, there's got to be something there. Personally I don't recommend adding it to other drinks. Plain cold water will do, especially now that they are all flavored. They phased out the original unflavored variant I tried when they first launched and replaced it with Vanilla Smoothie.
You can purchase Belo Collagen Powder Drinks at the Belo Flagship Store on Lazada.
Like this post? Subscribe to this blog by clicking HERE.
Let's stay connected: