When I was a little girl, baby powder was a staple. I remember either my mom or my yaya using a puff to powder my back and neck especially when it's hot. They said they were doing it so I wouldn't get bungang-araw (rashes from the heat). It was actually refreshing and I loved feeling fresh and dry because of the powder. The problem was, most baby powders in the past have used talc as a main ingredient. Talc is an ingredient that has been the subject of debate and lawsuits in the US due to its alleged link to cancer. With this in mind, I avoided baby powder when my children were babies.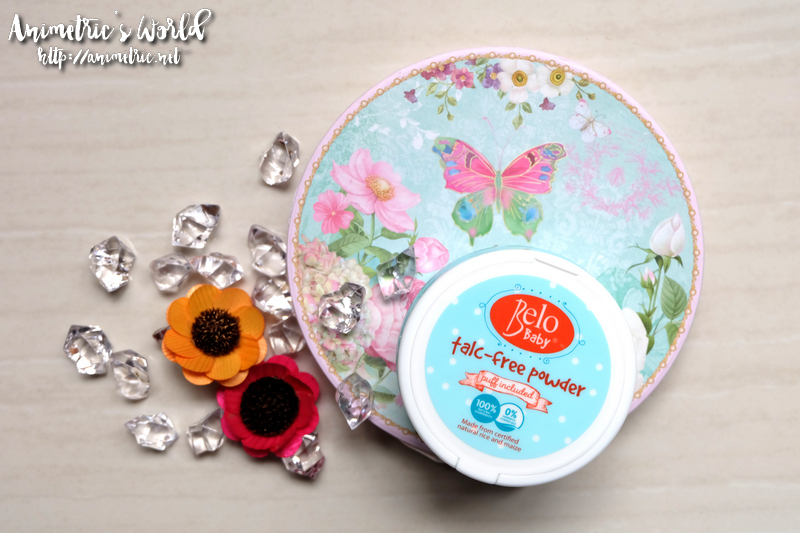 Good thing there's now Belo Baby Talc-Free Powder. As the name suggests, this product contains no talc. It's all-natural and contains 0% harmful chemicals. It's made from finely milled rice and maize. There are no parabens, dyes, phthalates, gluten, and other common allergens.
Belo Baby Talc-Free Powder comes in 65g jars like this one.
A puff is included in the jar. You don't need to transfer the powder to another container. I remember my mom and my yaya transferring powder from plastic bottles to a container with a lid and puff. It gets a bit messy with all the powder flying around when you squeeze them out of the bottle.
Belo Baby Talc-Free Powder looks every bit like the baby powder I grew up with. I immediately noticed the light baby-fresh scent which is characteristic of all Belo Baby products.
I asked my daughter to try some. She looked perplexed lol. After all, I had never really introduced baby powder to her prior to this. I was surprised at how the particles didn't go flying all over the place. I remember how irritating the talc-based powder was during application. The particles would get in my nose and cause me to sneeze. Either that or I felt like I couldn't breathe properly for a few moments while my yaya was puffing away.
What I like about Belo Baby Talc-Free Powder:
It's talc-free. I can see and feel the difference. For starters the particles don't go flying around to make it hard for you to breathe. It kind of sticks to the skin while you puff.
It's hypoallergenic and dermatologist-tested.
There are no harmful chemicals.
I really like the light baby-fresh scent.
You immediately feel nice and fresh after application, even my daughter agrees.
Belo Baby Talc-Free Powder is available at P219.75 per 65g jar at all leading drugstores, department stores, and supermarkets nationwide. Alternatively, you can purchase it online at https://tackthis.co/shop/Belo/category/belo-baby and enjoy free delivery until May 31, 2017. For more information, log on to https://www.belobaby.ph/.


Let Scarlet Snow Belo show you how to keep tots fresh and cool this summer!
Would you like to try Belo Baby Talc-Free Powder? I'm giving away three (3) Belo Baby Talc-Free Powder Gift Packs. Giveaway is open to all residents of the Philippines. Prizes will be shipped to the winners! Just follow the easy peasy mechanics below:
Answer the question "How do you keep your kids fresh and cool this summer?"
Three (3) winners with the most creative answers will win a Belo Baby Talc-Free Powder Gift Pack!
I'll announce the winners on May 31, 2017.
Sorry for the delay, it seems I forgot to announce the winners. Anyhow congratulations to Danna Maningas, Meg Mortega, and Angelie Namindang! Will get in touch with you regarding your prizes. Thank you all for joining! I wish I could give everyone a gift pack.
Like this post? Subscribe to this blog by clicking HERE.
Let's stay connected: