I got these Belo Baby Cologne full-sized samples from Sampleroom last summer. I suddenly remember my high school days. That was the height of my perfume obsession. I had everything from Nenuco to Tartine Et Chocolat to Calvin Klein's Eternity. I'd bring them to school in my bag. It was the in thing back then to splash or spray yourself silly with fragrance, I don't exactly remember why.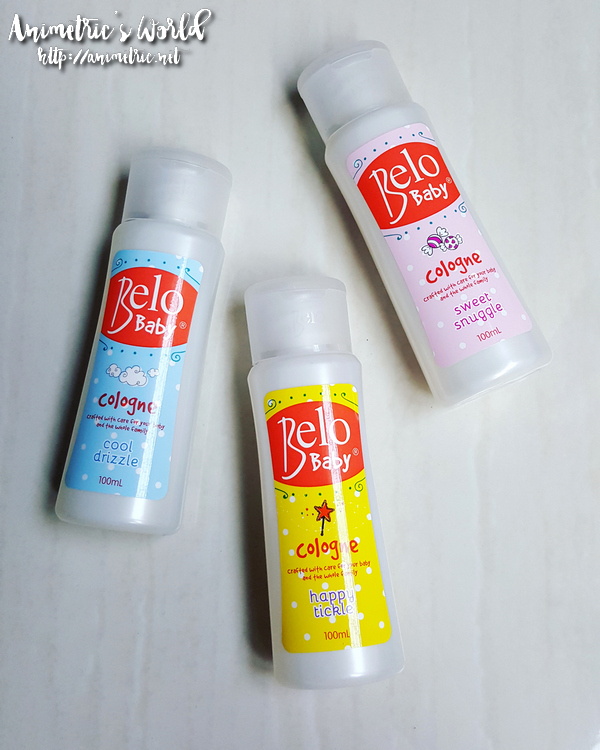 These days I'm not as crazy about scents but I still appreciate colognes that make you smell and feel fresh all day. So when Belo Baby Cologne went up for grabs at Sampleroom, I made sure to order my samples. I got all three variants:
Cool Drizzle – This is the light classic fresh baby scent that we often encounter when babies are around. I love it, it's my favorite!
Happy Tickle – This is a bright and fruity scent that reminds me of the summer and sunny days.
Sweet Snuggle – This is a floral scent for all of you who love flowers. No wonder it was the variant I liked least — I hate flowers lol.
Belo Baby Cologne can be used by babies, kids, and mommies. It's been clinically proven to be hypoallergenic so it's gentle and less irritating on the skin. All the variants are formulated with glycerin which moisturizes and chamomile-based ingredients which soothe even the most sensitive baby skin.
I love how it doubles as a hand sanitizing solution so you don't have to bring 2 separate products in your bag. My daughter is always looking for hand sanitizer so Belo Baby Cologne is perfect for her. It's free from harmful ingredients like parabens, phthalates, EDTA, and coloring agents too.
You can purchase Belo products at the Belo Flagship Store on Lazada.
Like this post? Subscribe to this blog by clicking HERE.
Let's stay connected: