I got a Belo AcnePro skincare kit for review some 3-4 weeks or so ago. My first reaction was… but I have no pimples at the moment! How do I review pimple-zapping products if I don't have a pimple, right? FYI, I don't have perfect skin… my T-Zone gets oily, I have enlarged pores, and well I have a few non-pimple bumps on my face. A zit pops up only every once in a while (more often than not when I'm about to have my period) so I guess for that I should be thankful.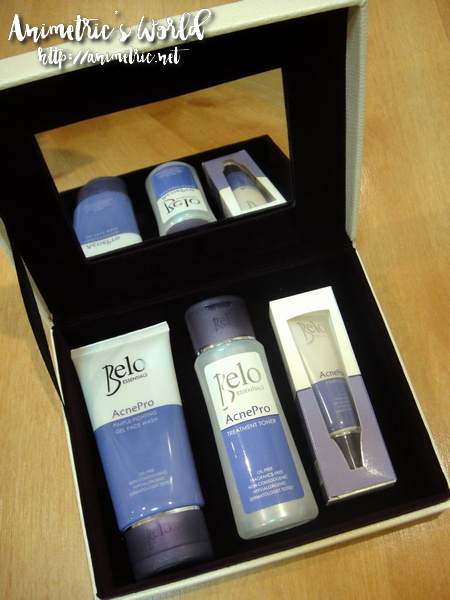 Anyhow, the Belo AcnePro line is comprised of 3 products infused with Purified Bee Venom clinically proven to treat mild to moderate acne and reduce inflammation. They are all oil-free, hypoallergenic, and non-comedogenic. Yes, these three are all it takes to say goodbye to pimples! I was surprised at how affordable they are.
For a little over P300 you can get the entire line!
Belo Essentials AcnePro Pimple Fighting Gel Face Wash 50ml (P99.75, pictured above left)
Belo Essentials AcnePro Treatment Toner 60ml (P79.75)
Belo Essentials AcnePro Pimple Gel 10g (P149.75)
Two to three days after I got the kit, I felt a pimple starting at the side of my nose. I always know when a pimple is starting and when it's about to erupt. Ugh! I usually drown it in whatever pimple medication I have on hand with mixed results. By mixed results, I mean sometimes it stops, sometimes it goes on to develop to a full-blown zit, and sometimes the area darkens (that's actually the worse that can happen!). Anyhow, I looked at it as the perfect opportunity for me to put these products to a test.
Step 1: Cleanse with Belo AcnePro Pimple-Fighting Gel Face Wash
For as long as I was feeling the unborn pimple, I used Belo AcnePro Pimple-Fighting Face Wash morning and night to cleanse my face. I was surprised at its fresh scent and super light gel consistency.
It doesn't really foam up into a sudsy extravaganza, which is okay since suds and bubbles have never been the indicator of how effective a facial wash is. I was worried that it might dry up my skin because most anti-acne products have a tendency to do that. But wow, the cleanser got rid of the excess oil and left my face feeling squeaky clean without the dryness and tautness associated with it. I love it!
Step 2: Tone with Belo AcnePro Treatment Toner

Next up was the toner. Again, I was worried that it might sting and dry out my face. Anyhow the Belo AcnePro Treatment Toner is clear and water-like in terms of consistency. It did not sting like I expected it to and it's almost scentless. It left my face feeling cool, refreshed, and even cleaner than before (if that's even possible). I especially like using this after a day of going around with makeup on because it's as if I feel it clarifying my face afterwards.
Step 3: Repair with Belo AcnePro Pimple Gel
The last step is the application of Belo AcnePro Pimple Gel. I put a bit on the area of my nose where I felt the pimple was about to erupt.
Like the other two products, the fragrance-free pimple gel has a light consistency. There was also no stinging sensation when I applied it.
I did the above steps for more than a week straight. By the 3rd day, I could feel the unborn pimple subsiding. I didn't stop using the Belo Essentials AcnePro line until I felt nothing in the affected area and I was sure it was gone for good. Goodbye Pimpy indeed!
So yes, I can truly say that Belo AcnePro line is effective in treating and preventing pimples. I hate it when I have a zit because I feel no amount of concealer can replicate the look of clear skin (it may look okay in photos but in person people will see just how much makeup you've piled on!).
What I like about Belo AcnePro products:
They're all oil-free, hypoallergenic, and non-comedogenic plus they all have no irritating fragrance.
They're effective as my pimple did not materialize when I started using these products.
The products did not dry up my skin.
The area where I used the gel did not darken or discolor in any way.
The entire line is super affordable. For a little over P300, you can buy all the products.
They're easy to come by because all major supermarkets and drug stores have them in stock.
Downside? None really. Please note that I still used moisturizer and applied sunscreen after toning with AcnePro. I'm really particular about my skin care regimen that way. I would definitely use these products in the event of a breakout or whenever I feel a zit coming up. 🙂
Belo AcnePro products are available in leading supermarkets, department stores, groceries and drugstores nationwide.
You too can say #GoodbyePimpy with Belo AcnePro. For more information, log on to http://www.goodbyepimpy.com/.
Like this post? Subscribe to this blog by clicking HERE.
Let's stay connected: