Last December 28, we joined several other bloggers for a weekend staycation at The Bellevue Hotel Manila in Alabang. We hardly ever go to Alabang since we live in Quezon City and everything is pretty much within our reach. In fact, I don't think I've ever driven myself to the far south, lol. It was my first day out since getting sick last December 23. The last time we had a staycation was back in June, so we were all pretty psyched.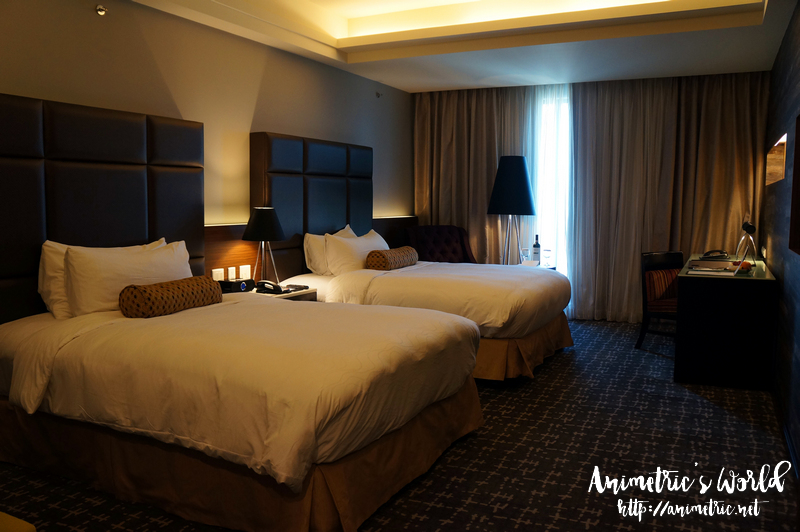 We were given a Signature Deluxe Room on the 20th floor. The Bellevue Hotel Manila has 45 Signature Rooms located on the 18th, 19th, and 20th floors. Upon entering the room we were wowed by the grand accommodations! The two fluffy double beds meant all four of us would be able to sleep comfortably, yay!
There was a welcome note and a welcome bottle of wine waiting for us.
I love the personalized touch!
Check out the luxurious study area. You can actually set up your laptop and work here in comfort. I left my computer at home because I wanted to really relax.
There were fresh fruits waiting for us too!
There's a Samsung LCD TV installed on the wall for our viewing pleasure.
Complimentary bottles of water, also all day complimentary tea, coffee, juice and soft drink service care of The Bellevue Signature Club are available when checked in The Bellevue Signature Rooms or suites.
There's a small mini bar inside the drawer where you can find complimentary packets of coffee and tea as well as chips and chocolate bars for sale (drinks for sale can be found inside the mini refrigerator just below this drawer).
There's a closet with hangers, robes, and an iron + ironing board too.
The bathroom is fully equipped with a bathtub, a separate shower enclosure, and a toilet area.
The kids had lots of fun in this tub because I brought along a couple of LUSH Ballistics for bath time. 🙂
Check out the ultramodern toilet! It looks like it's floating!
There's a shower enclosure for no-frills bathing.
What do you know, posh Acca Kappa toiletries!
Everything you need like toothbrushes, shower caps, sewing kit, comb, etc. are provided too.
This is the view from our 20th floor window. We super enjoyed our overnight stay at The Bellevue Manila's Signature Room! They have the fluffiest pillows and ultra-luxurious 400-thread count sheets so we all slept very well. I had been having sleepless nights while I was sick and this was the first night I was able to sleep nicely. There's unlimited wifi internet access all throughout the hotel too.
After breakfast the next morning, the kids and I had a swim at The Bellevue Manila's swimming pool. Hubby preferred to relax on a lounge chair and read a newspaper.
Here's another shot of the swimming pool. The water was freezing cold! Add the cool December breeze and well, brrrrrr! If you keep moving in the water though you will eventually adjust to the temperature. I taught my son how to dog paddle and that pretty much warmed us up.
A night at The Bellevue's Signature Room costs anywhere from P6,500++ to P9,700++ depending on when (and which site) you make your reservation. It's worth it because you're given access to The Bellevue Signature Club where you can lounge and enjoy unlimited refreshments for the duration of your stay (I'll tell you all about it in an upcoming post!). Service was superb all throughout our stay, I love how courteous and helpful The Bellevue Manila's staff are, they really go the extra mile to make everything nice and comfy. 😀
The Bellevue Hotel Manila
North Bridgeway, Filinvest City,
Alabang, Muntinlupa, Philippines 1781
771-8181
http://www.thebellevue.com
Like this post? Subscribe to this blog by clicking HERE.
Let's stay connected: