One of the classiest (but not necessarily the most expensive) gifts I got this Christmas is this set from Basilur Tea Philippines. I say classy because it looks very well put-together. One look and you think whoa… it sure is luxurious. I'd say it's the perfect gift for people you want to impress. The best part is, it doesn't cost an arm and a leg.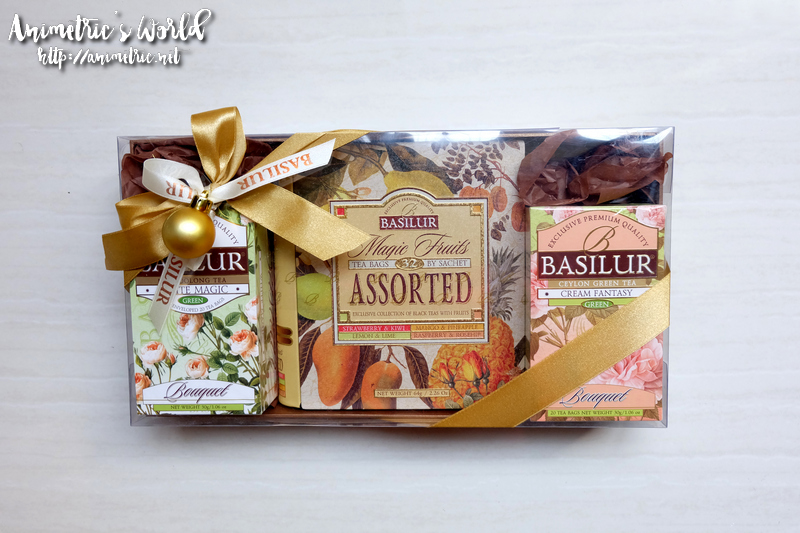 Tea is quite dear to me because I find it therapeutic. When I have a sore throat, some tummy trouble, or even a headache, I always turn to tea for comfort and relief. When I feel bloated or over-caffeinated, I have tea instead of coffee in the morning.
I got a box of Milk Oolong Tea (White Magic), Ceylon Green Tea (Cream Fantasy), and a really intriguing Magic Fruits Teabook.
The Basilur Magic Fruits Teabook (P550) looks exactly like a book. It features an exclusive collection of black teas with fruits. One book contains 32 sachets in 4 flavors: Strawberry & Kiwi, Lemon & Lime, Mango & Pineapple, Raspberry & Rosehip. There are several kinds of Basilur Teabooks, each with a different theme. It's the perfect gift even on its own.
See? You can put it on your bookshelf and it wouldn't be out of place. I love the concept!
This is what's inside the Basilur Magic Fruits Teabook. Isn't it lovely?
Basilur teas hail from the motherland of the world's finest teas — Sri Lanka! Unique and exotic blends of tea are created using natural fruits and herbs. You're assured of an excellent cup of tea every time. Drinking tea also brings health benefits like reduced risk of heart disease, weight loss, diabetes prevention, and more. It's really the perfect gift not just for Christmas but for all occasions. 🙂
Basilur Teas are available at Cash and Carry, Landers, The Landmark, Unimart, etc. For more information and a complete list of stores, log on to http://www.basilurtea.ph. You can also order online from there.
Like this post? Subscribe to this blog by clicking HERE.
Let's stay connected: