Last Wednesday, Baseus opened its first Philippine store in Trinoma. I did a Google search for Baseus prior to the event. I found out that they make all kinds of tech accessories like powerbanks, earphones, cables, car mounts, cases, etc. So let's take a look at what they have, shall we?
Baseus is located on the third level of Trinoma.
These Baseus Car Mounts (P890) clip on to the vent of your car aircon. Really handy if you use your phone for apps like Waze.
The side flaps "hug" your phone and the bottom provides extra support.
These are iPhone Powerbank Cases, available in 5000mAh and 7300mAh.
Both 5000mAh and 7300mAh cost P1,790.
They have Auxiliary Audio Cables (P390) too.
Sample products are on display so you can have a closer look.
There's a variety of earphones too. This is the Baseus Encok Wire Earphone H07 (P990).
There are Apple cables and Type-C cables.
USB hubs too.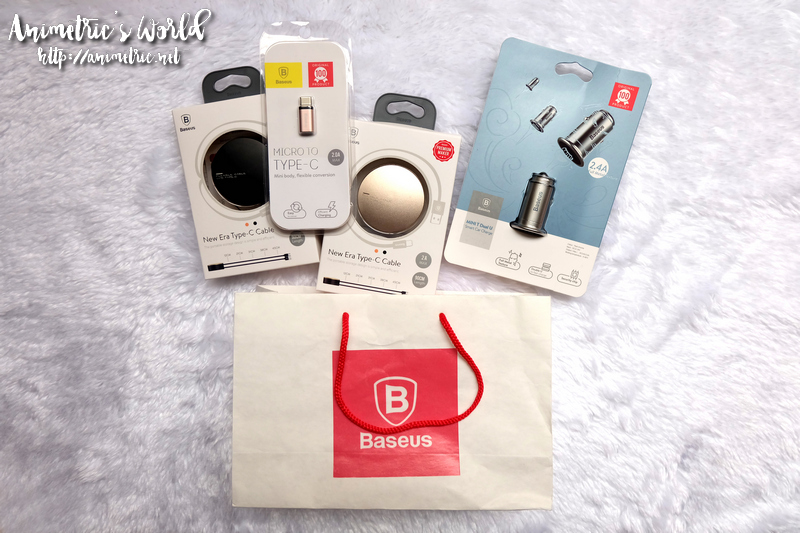 So what did I take home from Baseus? Since I just switched to the Samsung Galaxy Note 8 which uses Type-C cables, I got a whole bunch of them:
New Era Type-C Cable (P390) – I got 2 of these, one for me and one for hubby since he's using a Samsung Galaxy Note 8+.
Micro to Type-C (P290) – Since all our powerbanks are using micro cables, I bought a converter so I can still use the same cables to charge my phone.
Mini T Dual U Smart Car Charger (P890) – This is a dual USB quick charger you can use in the car.
I wanted to get an iPad Case but the model I needed was not in stock yet. They assured me it would be available soon though.
This is the New Era Type-C Cable.
The cables retract when you pull them so it's really convenient to bring along. Before this, I had a long cable all tangled up inside my bag.
For more information, products, and prices, log on to Baseus Philippines on Facebook.
Like this post? Subscribe to this blog by clicking HERE.
Let's stay connected: