One of my favorite beauty brands, Banila Co, recently launched a new line of face makeup. By face makeup, I mean cushions (my fave!) and foundations. A girl can never have too many cushions. Without further ado, let me introduce the Banila Co Covericious Power Fit line.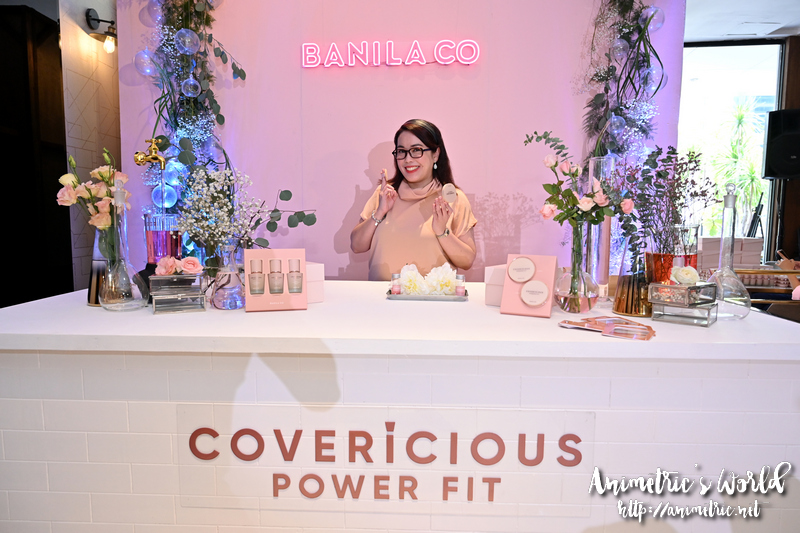 The Banila Co Covericious Power Fit line is comprised of two (2) products: Foundation and Cushion.
The Banila Co Covericious Power Fit Foundation (P1,795) comes in five (5) shades — Cream, Vanilla, Rose, Peanut, and Cinnamon. It features lightweight cover-to-fit technology that stays for up to 36 hours. There's also SPF 45 PA++ for sun protection. This foundation covers just about everything from blemishes to scars.
If you're not that into foundation (like I am), you have another option… the Banila Co Covericious Power Fit Cushion (P1,795). This one comes in 4 shades: Cream, Rose, Peanut, and Cinnamon. It's just like the foundation. The difference is in the application. This is a bit lighter, although the foundation can match its consistency with more blending.
I picked Cream, Vanilla, and Peanut as my shades.
Here are swatches of all the shades. I think my best match is Vanilla.
But since Vanilla isn't available in cushion format, I've been using Peanut, which looks like my shade. The cushion is shockingly pigmented. I say shockingly because in just one pat you have a really vivid patch of high coverage color on your face until you pat it some more to blend. I'm actually wearing the cushion on my entire face in the above photo.
Peanut may have looked a bit dark on my arm but it's the exact shade of my face.
What I like about Banila Co Covericious Power Fit Cushion:
The pigmentation is excellent. It's pretty solid so you can build coverage from sheer to medium. Well, their websites say medium but I think it can go up to full coverage if you add more product.
It's lightweight. You don't feel like you have anything on your face.
The finish is very natural — your skin but better. Not too matte, not too dewy. Although it did get more dewy for me as the day wore on since it's not really an oil control product. I thought it still looked great though.
I like the super light, pleasant scent.
Coverage is just perfect for me, not too sheer and not too heavy.
It lasts, only coming off when you take it off. I had it on for 8 hours and it was intact, albeit a tad more dewy-looking.
Can be used as foundation replacement.
Downside? It's on the pricier side at P1,795 for a single cushion, but good quality face makeup is usually at this price range.
Banila Co Covericious Power Fit products are available at Banila Co stores. For store locations and product information, log on to https://www.banilaco.ph. Banila Co also has an official store on Shopee at https://shopee.ph/banilacoph.
Like this post? Subscribe to this blog by clicking HERE.
Let's stay connected: