I'm willing to bet my bottom dollar you haven't tried or even heard of Badecasil Dermaseal. I happened to get a couple of these as a token from the Watsons K-Beauty event. I didn't expect it to be one of the best Korean facial mask sheets ever!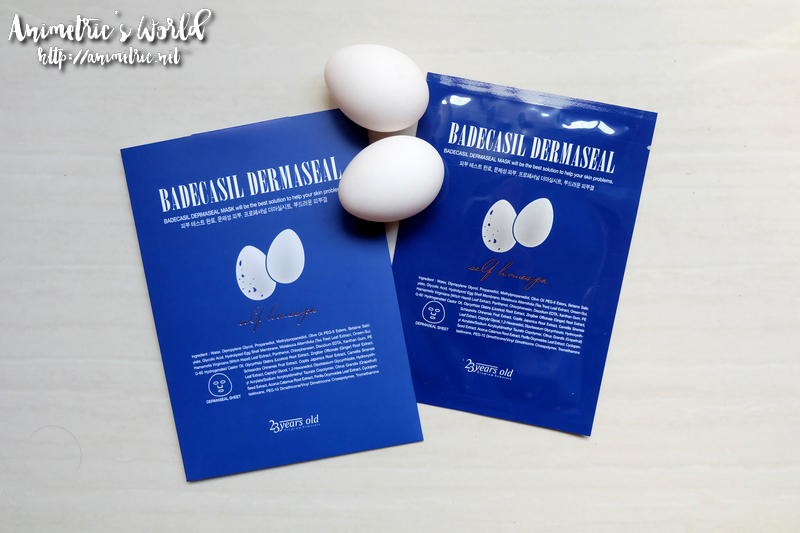 Just to give you a brief backgrounder, Badecasil Dermaseal is from the Korean skincare brand 23 Years Old. Badecasil Dermaseal is a facial mask formulated with hydrolyzed egg shell membrane.
This is actually my second time to use this mask. I loved it so much the first time I decided I had to share it with everyone. Like most mask sheets, you take it out of the foil pack and put it on your face. For this one, make sure the blue side is what you can see.
Remove the blue film. What's left is a really thin and stretchable translucent white mask sheet that smells kind of like egg shell.
Straighten and position the mask so it's perfectly flat on your face. Remove after 10-15 minutes.
Pat any leftover essence into your face. You'll notice that your face is incredibly smooth right after. I actually couldn't stop touching my face lol.
What I like about Badecasil Dermaseal Mask:
It's made of really thin stretchy material that hugs your facial contours effortlessly. I love how it fits!
The effect is immediate. You will notice the incredible smoothness shortly after you remove the mask.
It calms and conditions irritated skin.
It has Betaine Salicylate and Tea Tree Leaf Extract so it's good for minor inflammations like pimples.
I love the cool and refreshing feeling.
It's reasonably priced at P416 for a set of 3 masks.
Downside? None so far. Don't leave the mask on longer than the recommended time because the creases on the mask can leave temporary marks on your face. A set of 3 masks costs P416 at The SM Store (that's around P139 per mask). You don't even have to leave the house to purchase!
Badecasil Dermaseal Mask is available at Watsons and The SM Store (both online and offline).
Like this post? Subscribe to this blog by clicking HERE.
Let's stay connected: