My younger brother treated us to lunch last Sunday at Backyard Kitchen and Brew UP Town Center. It was his 27th birthday and I was really surprised because it was the first time he treated all of us lol!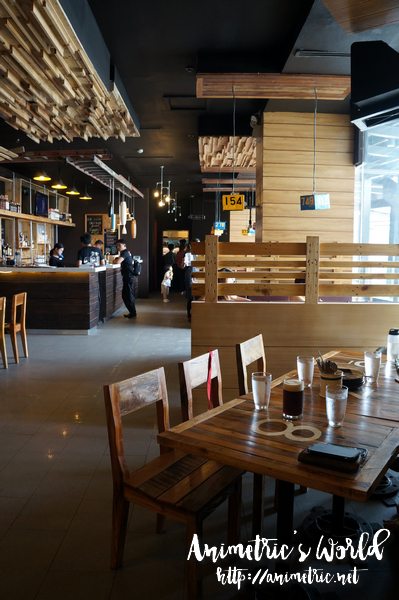 Anyhow it was our first time at Backyard Kitchen and Brew UP Town Center. It was high noon it was kind of dim inside. There's this rustic vibe, I guess it's all the wooden furniture and trimmings.
Each table has its own set of plates, utensils, and napkins.
We ordered Skillet Fries (P355) for sharing. It's literally a skillet full of fries topped with cheese sauce, pulled pork, BBQ sauce, jalapeno, and sour cream. While I liked the flavor profile, the fries were swimming in oil and super soggy. I couldn't eat more than a few pieces because it was so cloying.
I ordered Pulled Pork Belly Rice (P255) as my main course. It came in a big but shallow wooden bowl. My mistake, it was almost the same as the Skillet Fries in terms of flavor minus the cheese. Well I ordered this first and my brother ordered the Skillet Fries afterwards. Anyhow garlic rice is topped with fried egg and pulled pork with BBQ sauce, jalapeno, and sour cream. I thought it was pretty good and I finished it, just too similar to the Skillet Fries in terms of taste.
Ciabatta with Whipped Bone Marrow, BBQ Pulled Pork, and Sour Cream (P255) is what my hubby ordered. What is it with pulled pork and this place? Most of the dishes on their menu have pulled pork. This is too small to be lunch, it's an appetizer. It was actually listed under Small Plates and I was telling him to order something more substantial but he wanted this.
He also ordered a bottle of Brew Kettle (P75), a beer I actually like. It helped tone down the cloying feeling from all the greasy food.
This is what my son ordered, Grilled Cheese with Pulled Pork Sandwich (P295) — pulled pork again wahaha! It's a combination of cheddar and ricotta cheese with pulled pork in between slices of grilled buttered ciabatta bread. It's served with cheese-flavored potato chips on the side. My son finished it all so I think he liked it. I thought it looked yummy. I had a taste of the chips and it was good.
My daughter opted for the Chicken Salpicao Rice (P395). The menu describes it as chicken thigh chunks, crispy chicken skin bits, roasted garlic, and garlic rice. She liked the rice but she thought the chicken's flavor was too strong and it was quite greasy so she didn't finish it.
For dessert, we shared a Pizzokie (P385). It's baked to order so it took them about 15-20 minutes to make. It's a giant chewy chocolate chip cookie served warm in a skillet topped with two scoops of mantecado ice cream and rock salt. It's really yummy, we divided it into four and had a piece each. I think this is the best thing we ordered!

Thank you to my brother Mark for the lunch treat! We had an awesome time catching up with everyone.
As for Backyard Kitchen and Brew UP Town Center, there's a wide variety of food available although a lot of dishes have pulled pork in them. Everything was tasty and flavorful but there's a tendency to be overly greasy and cloying. I'm willing to go back and try their other dishes though. We did like the dessert. The place was pretty packed and there was actually a line outside by the time we had finished eating. Prices are not bad as most of the food are in the P200+ to P300+ range. I'd like to try their Backyard Flavored Beers next time as I saw that there was a Butterbeer variant!
Backyard Kitchen and Brew
2nd Level, UP Town Center,
Katipunan Ave., Diliman, Quezon City
0999-3666921
Like this post? Subscribe to this blog by clicking HERE.
Let's stay connected: